Bells toll for Aberdeen Chameleon
May 13 2009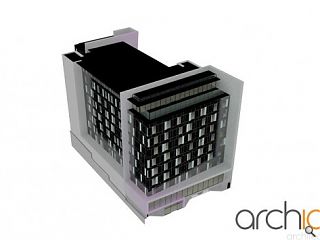 Archial Architects have taken a colourful approach to a £25m hotel development in Aberdeen City Centre.
A striking metamorphosis will transform the existing three storey Bells Hotel on Union Street from traditional grey granite into a colour changing edifice nicknamed "the Chameleon".
The scheme gets a ringing endorsement from Charles Smith, director at Archial Architects: "The design for this development is exciting in terms of both its height and intensity. Perhaps most striking about the design is that we're using a rendering material that changes colour depending on which way you look at the building.
"Whilst the existing fine granite building to Union Street will be carefully retained and refurbished, rising behind the existing Union Street building will be a ten storey high contemporary structure that will strike passers-by as pink, but which will change colour as they move to green – that represents quite a departure from Aberdeen's traditional grey granite!"
Work on the 217 bedroom hotel which will incorporate a restaurant, bar and basement car park, is scheduled to commence later this year for completion in 2011.
Back to May 2009