tRIBAl split
May 13 2009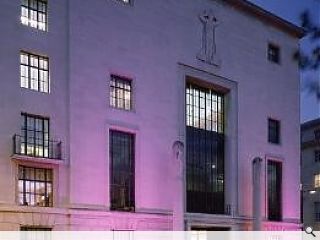 Two tribes went to war at Portland Place, RIBA's HQ, last night with Prince Charles's first return to the architects den since his infamous "monstrous carbuncle" speech of 1984.
The intervening 25 years have not dimmed passions in either camp, evinced by a boycott of the event by CZWG's Piers Gough who claimed: "an empty room would have been a suitable response to the prince", he was joined by Will Alsop who proclaimed: "you can't build fairyland in 2009."
However despite the modernist camps best efforts the event remained a sell out, leading architect Robert Adam to retort: "There are still some style jockeys out there who are off in a sulk but grown ups want to listen to him."
The Prince kicked off his address with an apology: "I'm sorry if I left the faintest impression that I wanted to create a style war or drag us back to the 18th century". Instead Charles spoke of his distress at the brutal destruction of Britain's cities in the 1960's and 70's wishing instead to see a "more organic architecture based on sensible rules of thumb rather than by the book."
RIBA president Sunand Prasad was less forgiving in his recollections: "He has shown very considerable prejudice towards modern architecture", with the result that: "a lot of planning authorities have blocked schemes not on the basis of quality, but on style".
Perhaps the biggest gripe with the Prince was that his intervention had come 40 years too late as Gough explained: "The Prince has had the most baleful and terrible influence on British architectural taste but people are excited now by modern architecture in a way they weren't 30 years ago.
"Neoclassical architecture is about hierarchy and class, modernism is about equality. Architecture is far too important an art to wallow in nostalgia."
Adam remarked: "Reducing everything down to a modernist box so that everyone is therefore equal and the idea that we're all classless is one of the things that destroyed our towns in the sixties."
"This is about tradition and living history, not classicism."
Back to May 2009