Grant Howarth gets on his bike
May 11 2009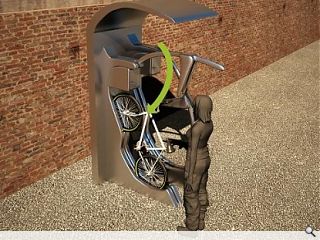 Grant Howarth, a recent graduate from the University of Strathclyde, has won a prestigious national award for a wheelie good solution to bicycle theft and vandalism.
A hi tech bike rack dubbed "Velo K" provides a locking mechanism based on a rollercoaster harness to protect parked two wheelers from marauding vandals, thieves and the elements. Symbolically these are sited on existing car parking bays as a means of communicating society's respect for pedal power.
Howarth scooped a tidy £625 cash award from the RSA (Royal Society for the encouragement of Arts, Manufactures and Commerce), for his twin wheeled solution and the work will go on display, along with other winners, in an RSA Design Directions Awards Online Exhibition at the end of May 2009 at
www.rsadesigndirections.org.
Back to May 2009