Hoskins holds the Fort
May 6 2009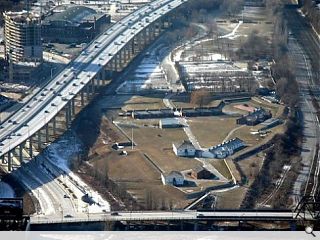 Gareth Hoskins Architects have reached the final five competitors in a bid to design a £15m visitor centre at Fort York in Toronto, the only international practice to do so.
Hoskins will be working in collaboration with local practice RAW Design and battlefield archaeologist Tony Pollard to develop design ideas for a full submission this summer.
Weighing in at 25,000sq/ft the visitor centre will include a dramatic entrance, reception, retail and café to augment the visitor experience.
Key to the design of the site will be site orientation, interpretive programs, exhibition space, increasing visitor numbers and helping to establish a sustained community presence.
Fort York, first garrisoned in 1793, is one of the earliest settlements that would later become the city of Toronto and constitutes a key plank in city authorities efforts at urban revitalisation.
Back to May 2009