Wilson's Weekly Wrap: They took some honey and plenty of money, The big boy did it & You're in the army now
May 6 2009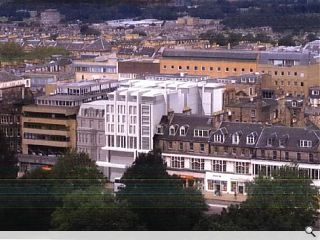 They took some honey and plenty of money
Good to see the Donald appears to be taking my advice for once. Regular readers will recall my suggestion a few weeks ago that he take over Forth Ports plc with the spare cash now available from his new town and golf course development as a result of favourable currency exchange rates. Not that he's come right out and named Edinburgh's waterfront exactly, but il Donaldo's representative on earth (or at least in Scotland), George Sorial, has announced that discussions are ongoing to buy out several major projects in Scotland that have been stalled by the current slump. Naturally this has led newspapers like the Scotsman to scan their ever more limited horizons for possible targets and have homed in on obvious candidates like Taymouth Castle in Perthshire and the Caltongate development in Edinburgh, but while the former could conceivably succumb to a "cash and grab" raid, it's unlikely the latter's administrator's will fall for his blandishments since the Bank of Scotland (yes, they who pulled the plug on Mountgrange, the project's erstwhile developer) have instructed them not to sell it off at a knock down price.
Whether or not these or any other meltdown development projects will end up in our hero's hands remains to be seen but up north in furrybootville, the reality is that the local forelock tuggers have still to see even a tiny fraction of his promised billion pound investment. The fact is, six months on from the Scottish government's go-ahead for the project, a detailed planning application has still to be submitted, something the Scotsman finds more troubling than would anyone who has direct experience of this country's primordial planning system. George Sorial thinks it is more realistic to expect groundworks to begin at the end of the year or early in 2010 once "a detailed masterplan incorporating every facet of the development" has been submitted for approval "rather than seeking piecemeal permission." Like his boss, George is a confident man and clearly he has much to be confident about: "we meet regularly with Aberdeenshire Council and they are doing a great job with handling our application."
Now far be it from me to say, but it's pretty obvious to most of us that the Trump Organisation could submit an old copy of the Beano with "Menie" scribbled on the cover and the righteous representatives of Aberdeenshire would fall over themselves to find the planning merits in it and fast track the necessary approval. The big question though is when will they get a sight of don Combleone's bauble-filled treasure chest since it is really only the promise of its lid being opened that continues to float the good councillors' pea green boat. Put simply, Don: show us the money before Trumpeting about all the other property bargains to be had in the KwikSaver economy of Scotland today. I know you won't believe it, but there are some who think your honeyed words are all a bit too good to be true.
The big boy did it
I didn't bring the subject up, but now that question has been unnecessarily raised again it seems only fair to examine David Whitton's comments about the cost of the Scottish Parliament. Whitton of course was one of Donald Dewar's spinmeisters (sorry, "special adviser") and not exactly an expert on architectural procurement. But then neither was his boss as we have all learned to our considerable cost. Except that David, determined to ensure the memory of Scotland's other Donald remains sacred, has taken to the papers over the past week (it being the tenth anniversary of the formation of our noble devolved institution) to insist that DD would have resigned had he thought the cost of Miralles' miradors would rise to over £400m. David, remarkably, apparently managed to talk his saintly leader out of such a drastic step, a splendid achievement by the former special adviser that only cost the rest of us the best part of £250m.
Sadly no matter how much David tries to flannel the facts, history isn't so easily rewritten. It takes only a cursory examination of the actual sequence of events to appreciate that Donald Dour was so determined to drive the project through before the newly elected MSPs had time to reflect on the adequacy or otherwise of the building's design that he set in train a process that proved to be both uncontrollable and unstoppable. The end cost was a direct consequence of the contractual route Donald # 2 signed us all up to and to peddle the old canard that "being an old-fashioned Westminster-type politician, he believed if a minister misled Parliament he should resign" is simply a shameless attempt to place culpability elsewhere. Sure, Holyrood's politicians didn't exactly cover themselves with glory throughout the whole debacle, but in terms of overall responsibility for the project's failings one of their number stood head and shoulders above the rest and we know who that was, don't we David?
You're in the army now
It's only just over a week since RMJM announced 60 redundancies in their Edinburgh and Glasgow offices and a 10% pay cut for the remaining 1000 staff members around the world, so you'd think that – like most other firms having to lay people off – it would be keeping its profile a little lower than normal. Not a bit of it, for without a moment's pause, the firm has continued to flood the gaping architectural p.r. marketplace with new announcements. Its local offices may be feeling the Curse of Gordon but that hasn't stopped it launching a new sports architecture division – imaginatively titled 'RMJM Sport' – led by John Pauline, designer of the 'Water Cube' at the Beijing Olympics.
Now I know you're already thinking this is a pitch for work in the east end of London and that 60 people in offices here could have had a stay of execution until the jobs came tumbling in but, sorry, that's not how empires are built. No, Mr Pauline will be based in the Hong Kong office and has already delivered a presentation for the firm to the organising committee for the 2014 Winter Olympics in Sochi. And the restructuring doesn't end there, no-sir-ee: the plan is for three more RMJM offices to hit the ground running in the next two months in Bahrain, Qatar and Turkey. Clearly the downturn being felt in the Middle East by other practices hasn't put off RMJM chief executive, Peter Morrison since he's also apparently looking to strengthen the firm's presence in Abu Dhabi whilst simultaneously exploring other opportunities in north Africa.
Now Peter's an interesting guy: so interesting in fact that the Scotsman devoted two whole pages this week to his musings. Unlike everyone else, it seems he spotted the financial tsunami coming and has been steering the RMJM galleon away from the rocks and onto the safer ground of big government commissions ever since – "at the moment many of the best opportunities are in those areas which are paid for from government and public purse so we have moved quickly to structure our business accordingly." Hence the current emphasis on education, healthcare and transport infrastructure (no, not trams – we're talking airports, railway and subway stations, ferry piers, terminals and transport hubs here).
The firm has of course the resources to chase these opportunities as despite anticipated profits dropping in the current year to £5-6m from last year's record breaking £7.9m, things still look pretty healthy down the Bell's Brae. Unless of course you're one of the sixty recent recipients's of a RMJM P45. A tip for remaining staff: since your chief executive went to Sandhurst and served in the 1st Battalion of the Royal Scots and your director of global emerging markets, Nick Haston was deputy director of operations at the British Army's Operational Brigade Headquarters in Afghanistan and was involved in recapturing Musa Qaleh, maybe you should look to augment your reduced salary by joining the TA. It's only weekend work but it will give you the additional training you need to keep your head down in one of RMJM's new frontier outposts.
Another fabulous triumph for the forces of conservation
Speaking of war zones, the development site at 121-123 Princes Street that has been hidden by scaffolding for the best part of five years, looks set finally to secure planning permission. What's the big deal you might say, it being only (yes) another hotel proposal on the putative tram route that has received the City of Edinburgh Council's approval. Now if we ignore for a moment the big buck contributions the Council requires from developers for the privilege of having their projects passed by the occasional tram, the big deal in this instance is that the latest design – required in response to objections received by the planners – is an absolute shocker.
Wrap readers probably need some context here and I am happy to tell you that the existing building facing onto Princes Street currently houses some jimmy-hat shops at ground level but – as with much of the capital's once premier shopping boulevard – the floors above are all empty, whilst the upper levels of the buildings behind that face onto Rose Street Lane have been unoccupied for the best part of 40 years. Not much to worry about there you might think: a site ripe for redevelopment and indeed owners Deramore and their architects Archial thought so too, but in the face of objections chose to enclose the existing façade of no 123 in glass, a solution so loudly decried by the local forces of darkness and oppression that the designers retreated to think again.
And it is their latest confection that has been recommended for planning approval – in a report to the committee, council officers state that "the (existing) building is visually interesting but does not demonstrate any features of particular rarity and what detail it had has been heavily compromised by the decay of the soft sandstone façade facing onto Princes Street. Whilst the loss of individual buildings is a key consideration, this has to be set against the objective to regenerate Princes Street as a competitive city centre destination." Reading between the lines you have to think they're bored with this one and want to move on, but Princes Street – for which the council has a "string of pearls" strategy – will be the worse for the next 40 years if this less than mediocre compromise is built.
So what exactly is the pressure that has caused the planners and the architects to cave in and emasculate the glazed solution on offer before? Charles Dundas, Lib Dem councillor for the city centre said "the glass fronting (sic) had been by far the biggest concern, so I am pleased that the developers have listened to these concerns." Historic Scotland, for its part, had described the previous plans as "unacceptable" but welcomed the new design. In fact and in total, eight letters of objection were lodged against the plans, including ones from the Cockburn Association (Edinburgh's Civic Trust) and the Architectural Heritage Society of Scotland. So there you have it: any new buildings that will be added to the most visible street frontage street in Scotland's capital are in the gift of a minuscule and unrepresentative number of people and organisations. It should be said that tough-talking design 'watchdog' A+DS (of whom more, much more, next week) has "slammed" the latest plans saying the 103-bedroom hotel proposed is "not of the quality that we would expect for Princes Street." That'll scare them.
And finally….
To Glasgow where the competition for a new masterplan and building for the School of Art has apparently encouraged upwards of 9500 architects to download the details – a public relations triumph if ever there was one, given that previous reputable architectural competitions in Scotland have delivered around 400 entries. Of course it remains to be seen how many of the downloaded documents metamorphose into actual applications to enter the competition, but word on the street is that it will be a high number, so much so that even the London based architectural press has averted its metropolitan gaze northwards. I was asked by Building Design if I thought Scottish architects should have precedence in such a competition but I think they were a bit nonplussed when I suggested an even playing field would be a start. Trouble is, they're so used to their favourite starchitects reaching every shortlist around that they don't see the negative impact this has on the morale of other talented architects.
For too long Scotland has suffered from its politicians imposing big name designers – not so much in the cause of good architecture but to secure international profile and the odd tourist dollar – that many have simply lost faith in the competition process, so much so that I'd be prepared to bet that – despite the downturn in employment – many here will simply not have bothered to enter. In any case, when you know in advance of the initial submission that interest in the competition is so high, the decision to spend office time and money on entering and getting absolutely nowhere as opposed to simply blowing your remaining funds on a lottery ticket is not really a tough one.
It'll certainly be intriguing to see who is shortlisted, but actually I'm more interested in carrying out some analysis of the 9500 names who initially expressed interest to see how many of them emanated from north of the border. Only by doing so can we begin to create an even playing field for the talent we have here and only in this way can we create the kind of forum that will allow our best to develop the skills and experience necessary to compete equally on the big global stage that lies out there.
Back to May 2009