Down towns on the up
|
Send to friend
April 28 2009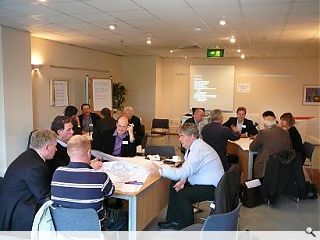 Saving Down Towns, a day long conference looking at the regeneration of Glenrothes and New Cumnock provided some bright discussion amongst some 60 delegates on a dreich Monday.
Organised in response to feedback from the Carbuncle awards proper, a series of speeches and workshops were laid on in a bid to turn the negative experience of picking up the notorious "Plook-on-the-plinth" award into a positive opportunity to learn from past mistakes and turn both town centres into better places.
Key to this was an afternoon workshop which allowed delegates to make their voices heard in an open session of debate, drawing and thought. In Glenrothes attention focussed on the Kingdom Centre and how best to turn this into a more traditional urban centre. Ideas entertained included "thinking outside the box" and opening up a more porous pedestrian environment, both into the centre and surrounding residential areas.
Making the town centre a more attractive environment was further cited as crucial to the longer term success of the area and ideas entertained included building up a new perimeter of facilities around the centre on existing surface parking to both enhance amenity and encourage foot traffic.
New Cumnock presented a very different set of challenges to the conference, notably how to manage decline and ensure the very survival of a community. Unanimity of purpose was evident with all present emphasising the need to both contract from failing 1950's housing back to the historic urban core and to diversify a local economy into tourism and leisure. It was felt this would be achievable by playing to New Cumnock's strengths, notably the train station and river.
This is not the end of the story for either location however and investigations will be made into how both Glenrothes and New Cumnock can make use of the days findings to launch bids for a slice of the Scottish Government's £60m Town Centres Regeneration Fund.
Back to April 2009