Cre8 cheered by top tier competition placing
Send to friend
* Required fields
|
Send to friend
April 15 2009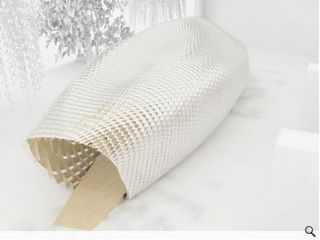 Cre8architecture are celebrating a top 16 finish from a mammoth field of 610 entries in an international competition for The Art Fund Pavilion 2009.
The pavilion is designed to resemble a living creature, an internal glow presenting the character of a pulsating organism. Purposefully incomplete, Cre8architecture have rejected the idea of a static "complete" form, instead presenting a product that is redolent of evolutionary change.
This is achieved through careful selection of materials with the skeleton comprising a plywood frame assembled into rib elements, depth and thickness are adjustable parameters providing flexibility of space.
Enveloping the structure is a high tec "skin" or Teflon membrane, designed to react to changing light conditions. Its primary element is a honeycomb cell that optimises wrapping qualities with semi-rigidity, it is flexible, wraps like cloth and can be folded.
Marriage of organic and structural elements was described by project architect Pierre Forissier as an: "Experiment with a developmental pattern in the evolution of an organism to let spontaneous forces go without mediation."
The project is currently exhibited at the Lightbox, London, where the winner, a proposal by Tina Manis Associates, can also be viewed.
Back to April 2009