Wilson's Weekly Wrap: Why bark when you can bite? A problem shared is a problem doubled and two out of three isn't bad
|
Send to friend
April 14 2009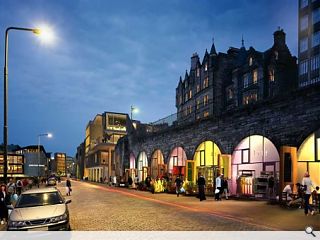 Why bark when you can bite?
Despite City Council protestations to the contrary, it can hardly be a surprise to anyone that things appear to have gone off the boil a bit on Edinburgh's Caltongate site. The administrators of former developer Mountgrange are apparently in the process of seeking out others still able to raise the necessary readies to buy the project and possibly even complete it, a task that may take more than a little while in these unusual financial times. Wrap readers will recall my comments last week on the various parties still debating the why's and wherefore's of the now stalled project, but it should not be forgotten that blame for this – very possibly terminal - hiatus has been attributed by supporters of the development to the four years it took to secure planning permission. Scotsman deputy editor George Kerevan has even gone so far as to suggest that "the planning system is based on tortuous negotiations rather than agreed rules", an opinion that makes a subsequent letter in Saturday's paper so intriguing.
Taking a contrary position, Graham Duncan, a correspondent from Haddington, makes clear that "agreed rules" already exist in the form of the statutory development plan. He goes on to point out that this document has been subject to wide public consultation as well as a public local inquiry into representations and has been formally adopted by Edinburgh's Council. Rising to his theme, Mr Duncan adds that the plan is further supported by the government's Scottish planning policies and 'Planning Advice Notes', Historic Scotland's 'Memorandum of Guidance on Listed Buildings and Conservation Areas' as well as 'the Management Plan for the World Heritage Site' also endorsed by the Council and Historic Scotland. Having laid his case out so unequivocally, the writer delivers his coup de grace –"When developers, in pursuit of profit, sidestep 'agreed rules', the public is aggrieved and tortuous negotiations are an almost inevitable consequence. If Mountgrange had played by the rules, the former New Street bus station would by now, in all probability, be a development site approaching completion."
So why should the viewpoint of this particular writer be any more authoritative than the many architects, developers, journalists and politicians who have waxed lyrical on this self-same subject? Can this be the same Graham Duncan who was until a few years ago was the City of Edinburgh Council's Director of Planning and indeed the last one of that ilk to be both a registered architect and a fully-qualified planner? Graham still plies his trade in a self-employed capacity as a Reporter to the Scottish Government's Directorate of Planning and Environment and if anyone can be said to know the rules as they apply to the Caltongate site, it would be fair to say he does. It'll be interesting to see whether – and if so, how - the current Director of Planning argues the Council's position.
A problem shared is a problem doubled
There's no doubt that things on the construction front have been a bit doom and gloom of late and the Weekly Wrap inevitably reflects some of this. It's good therefore to have the occasional positive news story to respond to and – by way of a follow up to my comments last December on the conglomerate of practices now known branded as Archial – I see that after a shaky period under its old SMC name, its share price has more than doubled since the beginning of the March and now stands at 9.75p (up from 7p in the past week alone). This is no doubt due to the fact that the company, which operates offices in Scotland's five largest cities, has managed – despite a slight dip in turnover in 2008 – to turn a loss from the previous year into profit and to reduce its overall debt by the best part of £5m.
Now, for those unfamiliar with the varying corporate structures of architectural practices, the track record over the years of those that have chosen to go for a Stock Exchange listing has not exactly been an encouraging one, so - given the current travails of the industry - the recent performance of the organisation is certainly more than creditable. Of course, no financial news story these days is complete without the input of those least loved specimens of mankind – bankers – and this one is no different. Despite the company's impressive progress, the freddy-shreddies have been tightening the thumbscrews on Archial to ensure its employees experience the same vicissitudes as everyone else in the construction industry just now. With pay cuts all round, the recent purchase of 75000 shares by chief executive Chris Littlemore might be seen by outsiders as a vote of confidence in the company's prospects, but the suspicion has to be that had his investment been any more than the £5k or so that it took to get his hands on the aforementioned shares, searching questions might well have been forthcoming from the staff as to where he got the readies from.
Two out of three isn't bad
Some of you may have noticed the government's recent announcement that funding for health research was to rise to £1.7bn per year by 2010-11 and that of this sum the Medical Research Council (MRC) was to receive £682m from the Department of Innovation, Universities and Skills to build a series of laboratories and specialist research facilities throughout the UK. The MRC has its own four-year procurement framework for projects ranging in value from £100k to £15m and it has now appointed four practices to carry out the specialist work required. One of the four is Glasgow-headquartered Boswell Mitchell & Johnson, a practice that for most of its existence (and we're talking almost 100 years here) has focused its energies on three main sectors – biomedical/biological research, healthcare and education.
Its an old truism that if you concentrate on the three main areas of government spending (defence, education and health) you can't go wrong and BMJ seem be living proof of this, even if they've managed to get along without the help of the MoD's infamous contractual generosity. Given the dearth of publicly funded projects just now, it's reassuring to see at least one Scottish practice punching its weight out there in the bigger wider world and in a sector in which specialisation really does cut the mustard.
Banking on a bail-out when the bank is bust isn't such a hot idea
All this in stark contrast to RMJM whose Edinburgh and Glasgow offices last week announced sizeable lay-offs. The former has been particularly affected by an unexpected slowdown on Learning and Skills Council' projects that it was perhaps a bit over-dependent upon - but hey – you take work where you can get it these days. RMJM is not alone of course in suffering from the stalling of an LSC programme that was set up to refurbish further education establishments south of the border, but being one of 21 firms that are party to the quango's framework agreement it had confidently anticipated a reasonable share of the £2.3bn of projects on offer. What none of the design companies involved had expected was continued government dithering, especially since the promise from Downing Street last November was that a green light would be flashing vigorously on this particular front. As yet, the bods in Whitehall are still fumbling for the switch, but it has to be said that the much heralded jingling of public coinage on this and other construction programmes remains an almost indistinguishable tinkle from the far distance.
Which makes the loud trumpet calls from Grahame Barn, director of the Federation of Master Builders in Scotland and Michael Levack, chief executive of the Scottish Building Federation for a return to PFI/PPP north of the border all the more puzzling – haven't these guys noticed that the problem (as they would have it) is not so much the failure of the Scottish government's long promised Scottish Futures Trust to emerge in any detail never mind fund an actual project but on the radically changed financial circumstances we now find ourselves in? It's highly doubtful that any PFI/PPP project could nowadays proceed on the same model that operated before our banking sector went into meltdown, a point forcibly brought home in March when Chancellor Alastair Darling came up with the clever wheeze of lending money to PFI/PPP operators since they couldn't raise the necessary money from any other source. The Wrap pointed out the economic illiteracy of this approach in some detail last month and the fact that we needed a Plan B pretty sharpish if anything was to be salvaged of the construction industry as we've come to know it. Sadly, my words fell on stony ground, with Messrs Burn and Levack preferring to re-tread the now thoroughly infertile landscape of Plan A. This may go down well with their members, but it sure won't solve their problems. The question now is whether or not the construction industry north of the border actually has the capacity to think innovatively and come up with any new solutions at all. Creating its own development bank would be a good start, since there aren't any others out there that are the slightest bit sympathetic to its plight, but that might require a bit more constructive effort than simply whinging in the papers about the deficiencies of government this side of Berwick.
Another fine mess
Anyone who has ever worked as an architect in the Middle East will be aware of the strict rules that govern the design of mosques and in particular the paramount importance placed on the orientation of the building's mihrab towards the Kaaba in Mecca, the holiest site in Islam's holiest city. This seems altogether reasonable since the mihrab – usually a niche in the qibla wall – indicates the direction Muslims should face when praying and usually great care is taken during the construction of mosques – wherever they are in the world - to ensure the buildings are angled accurately. It is a little surprising, therefore, to learn that worshippers at around 200 mosques in Mecca itself have only just discovered that they have been kneeling in the wrong direction for decades because their places of worship have not been built properly. Even more surprising is the rather bland statement from religious authorities there that the mistakes are not significant, presumably meaning that no rebuilding will be taking place nor will there be recourse to the various architects for the costs involved.
Just consider how different things are in good old raintown, where the urban myth has existed for years that the architect of the city's Museum and Art Gallery threw himself off the roof when he realised his Kelvingrove creation was constructed back to front. Given that this time the mistakes appear to be real ones, the architects of Mecca's mosques can only thank their lucky stars that no such stern Presbyterian consequences have been demanded of them.
And finally…
The prize for this week's wackiest building as illustrated in the popular press must surely go to the shiny black, grand piano-shaped edifice (complete with raised lid, concert style) and its fully transparent entrance in the form of a violin that is now to be found in Huainan, a town in China's Anhui province. It's not so much the daft, first year student kind of concept that makes the incongruity of this one stand out though, it's the fact that it's going to be used as an exhibition hall for urban planning. If ever a single building represented all that is wrong with so much of what passes for urban design in these early years of the 21st century this has to be it – a fanciful object cavalierly plonked onto a site with not even a tangential reference to the context it sits within. Indeed, how could it have unless of course there are other buildings around it that are also modelled on musical instruments? And just in case you were wondering, this is no abstract, cubist confection in three dimensions, but is instead as literal an up-scaling of forms as is possible if the desired end result is a Brobdingnagian chamber orchestra. Even Will Alsop at his most demented couldn't have come up with this one. Then again…
Back to April 2009