Restored Circus Crowns west end
|
Send to friend
April 14 2009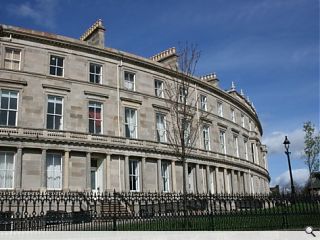 Crown Circus, the jewel in the crown of the west end, is celebrating its 150th anniversary in style having been remodelled by Page\Park on behalf of the Crown Circus Residents Association.
Designed in stages between 1857 and 1860 by architect James Thomson, the prominent semi-circular terrace has emerged from a decade long process of planning, conservation and construction to present a back to the future style makeover for which Thomson himself would be proud.
These works incorporated the clearing of communal gardens, reinstatement of traditional railings and the restoration of stonework and columns.
Residents Association Secretary, Eric Spencer, said: "10 years ago at a talk organised by the Friends of Glasgow West we got together and began to dream about the possibilities of restoring our A listed circus, 3,000 emails later, and a lot of hard work by all, and we've done it with the work being completed at the beginning of April."
The £1.5m cost of the scheme was borne jointly by Historic Scotland who took on a 55% share and the 31 owners of the terrace who financed the remainder.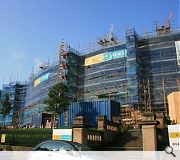 Back to April 2009