The tale of two towers continues
|
Send to friend
September 19 2005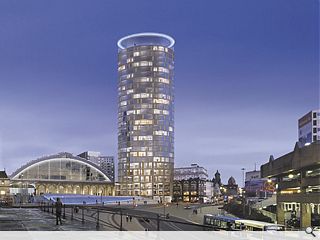 Liverpool City Council is to be taken to the High Court over its planning policy. According to Sean O'Sullivan, general manager of Chieftain Developments, Liverpool City Council "didn't give due consideration to the scheme that we submitted". O'Sullivan's claim is in response to the recent announcement that planning permission has been granted for Glenn Howell's design for a 28-storey mixed-use building, which will feature office and residential space plus cafes and retail units at its base at the Lime Street Gateway.
The scheme for the national regeneration agency is the result of a partnership of English Partnerships and its preferred developer partner, the Liverpool-based Iliad. Iliad is operating on behalf of the Lime Street Gateway partnership, which consists of English Partnerships, urban regeneration company Liverpool Vision, Liverpool City Council, Network Rail and Merseytravel. According to O'Sullivan however, "the planning process was never a level playing field and we have taken Queen's Counsel to seek an independent judicial review of the selection process through the High Court".
Chieftain's scheme was rejected by planners and was quickly appealed against by the Irish-based developers. "One of the main reasons why we were denied permission was that our scheme may negatively impact on theirs. But this was never seen as having a negative impact on ours. They didn't give us a fair crack of the whip," said O'Sullivan. Chieftain is currently awaiting the outcome of the appeal. The legal action could take up to 12 months to come to court.
Despite the success of Howell's scheme in gaining permission, the response of Chieftain is symptomatic of wider concerns about the planning culture in Liverpool. "The thing about other cities in the region is, if they don't like something then they'll tell you. That isn't the case in Liverpool," said one architect.
As part of Howell's scheme, permission has been granted for the demolition of the row of shops at the front of Lime Street Station to reveal its listed Victorian arched gable-end, and the creation of new public space at the front of the station. Planners have also given the go-ahead for the demolition of Concourse Tower – long regarded as one of the city\'s architectural blights. It was bought by English Partnerships on behalf of Liverpool Vision in August 2004.
Back to September 2005