Holmes bank Queen St approval
|
Send to friend
March 31 2009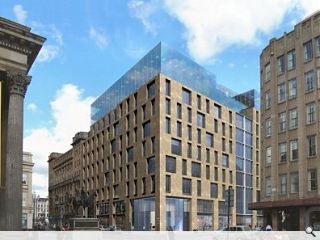 A revised planning application for 110 Queen St by Holmes Partnership and developers Valad has been approved by Glasgow City Council.
Key changes to the scheme see two storeys lopped off the glazed penthouse levels bringing the height down to 11 floors along with a slight reduction in bulk with a stepped indent toward the neighbouring Olympic House.
Design of the proposal is intended to blend in with the surrounding conservation area with the use of smooth sandstone punched through with deep set windows. The building line will be brought out to align with the prevailing line of Ingram Street to properly frame the setting of GOMA.
Mass of the Ingram Street façade is split by a vertical line of glazing, to reflect the width of neighbouring properties. Capless fritted glazing is sculpted to avoid a monolithic outline against the sky and enlarged vehicular access to the basement will accommodate two way traffic.
Approval clears the way for demolition of the unloved former HBOS offices, present decay a sad metaphor for the banking giants waning fortunes.
Back to March 2009