Come out and play with Prospect's LEGO display
|
Send to friend
March 30 2009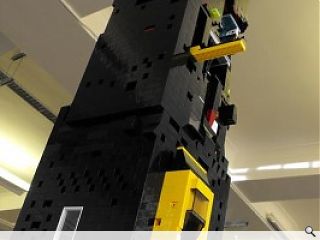 Prospect's LEGO challenge has been given a fresh lease of life with the decision to put the models on public display here at Carnyx HQ.
From today members of the public, yes you! Will have the opportunity to come along, meet the Prospect team and have a gander at some choice toy joys, a bit like Doors Open Day then, but ongoing and with added LEGO!
If you're at a loose end on your lunch break, nuts about your LEGO or simply fancy a nosey pop along to the Mercat Building at 26 Gallowgate and climb our very own stairway to heaven, level four to be precise!
Our rostrum of catwalk stunners are waiting to set visitors agog, displaying their true colours and svelte plastic forms. Remember, with a coveted best in competition award up for grabs there's everything still to play for. So see what everyone's been talking about for yourself and most importantly,
get voting
.
The LEGO menagerie will take centre stage at Prospect towers until the Scottish Design Awards on Friday the 29th May. Booking forms for this event can be
downloaded online
.
Back to March 2009