SAVING DOWN TOWNS CONFERENCE- Your chance to help shape the process
Send to friend
* Required fields
|
Send to friend
March 23 2009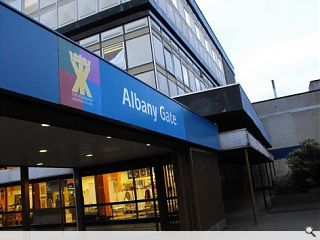 What ever your view of the Carbuncle Awards there is no doubt they serve to highlight the fact that too many of Scotland's town's are failing.
So now, as well as identifing what has gone wrong, Prospect is keen to help identify what needs done to start putting things right. That is why we are organising a major conference which will feature a range of leading speakers including Allan Murray and Peter Wilson as well as members of blighted communities who will be seeking to learn the lessons of history as well as find the answers for the future.
The conference, which is entitled Saving Down Towns, will take place in Glenrothes, this year's Plook-on-the-Plinth holder. And we will be using that town to illustrate the challenges faced by many town centres across Scotland.
Workshops will look at why it is failing and suggest ways to ensure it can now succeed. Those attending will benefit from finding out about the latest thinking in place-making, discover which policies tend to work, and enjoy access to lively debate about the future of our built environment.
The conference will draw community leaders, planners, developers, architects and leading opinion formers, so it will also be an ideal networking opportunity.
Book your place now at the event on April 27 at the Rothes Halls, Glenrothes by logging on to
www.architecturescotland.co.uk/glenrothes
or contacting John Glenday at
john.glenday@carnyx.com
or 0141 559 6087
Back to March 2009