Lautner's Scottish debut
Send to friend
* Required fields
|
Send to friend
March 20 2009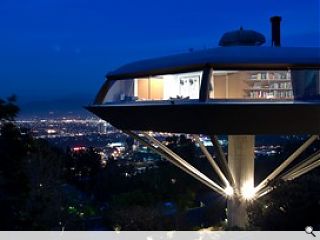 Fresh from taking "Scotland to the world" at last summer's Venice Biennale Nick Barley, Director of the Lighthouse, now wishes to bring "the world to Scotland." Dovetailing with that aim is a three month exhibition of work by John Lautner, glamour architect for the rich and the famous.
Copious fragile graphite on paper sketches, peppered with projector movies from acclaimed film maker Murray Grigor and garnished by the occasional model, bring the architects virtuoso designs straight from the Hollywood hills to the Clyde Valley.
Bringing to architectural life the unbridled optimism of the space age Lautner's work is difficult to categorise but works by introducing elaborate viewing platforms into the landscape
Disregarding his eras dull obsession with rectilinear lines Lautner practiced a far more individualistic modernist style, using sculpted concrete in a sensual form and marrying this with a playful use of wood and embrace of natural features by building around geological formations.
An embrace of technology allowed for such exuberant extravagances as swimming pools bridging inside and out, revolving walls, rooftop moats and even a funicular carriage.
Most famously Lautner crafted a site from nothing by creating a magic mushroom, Chemosphere, to command the 45 degree slope overlooking Los Angeles.
The timelessness of these designs is exemplified by the fact that they are as futuristic today as they must have been new.
Back to March 2009