Leith waterfront slides
|
Send to friend
March 16 2009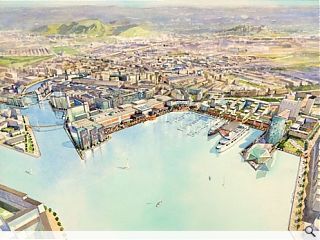 The financial tsunami sweeping global capitalism has left Leith land values all washed up.
The local market, buoyed until recently by the buy to let market, was flooded by waves of one and two bed apartments, a model now sunk by the near collapse of one time banking greats Royal Bank of Scotland and HBOS, amongst others, and their inability to provide mortgages.
This has seen land values plummet £222m across Leith Docks leading some 80% of developer Forth Ports landbank to be deemed effectively worthless for the immediate term. Nevertheless a defiant Charles Hammond, chief executive of the Port operator, vowed that they could still realise a 30 year vision for the Leith Docks area despite short term difficulties.
It is not all doom and gloom for Forth ports however, underlying profits rose 23% at its ports division on the back of an 11% rise in container volumes across Scotland.
Back to March 2009