Holmes chalk off second phase of Hawkhead
|
Send to friend
March 6 2009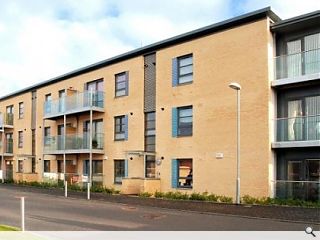 Holmes have announced that the first two phases of their residential redevelopment of Hawkhead Hospital, Paisley, have completed.
Comprising a three storey block with 18 flats and a two storey terrace with seven houses, both are designed to complement Thomas Tait's original 1934 hospital buildings which will themselves be refurbished.
Tait's buildings are prized as some of the earliest examples of the modernist movement in Scotland which superceded Victorian hospital design with clean lines and white walls. Holmes work pays homage to this ancestry with clipped roof edges, white render and glazed brickwork.
A buff brick on the primary elevation of the flats is split vertically into four sections to reflect the lower scale of the existing houses on Hawkhead Road. Slender glazed brick panels are incorporated at windows in a rainbow pattern across the façade. Secondary elevations are treated with white render.
At gable ends, in a reference to the original ward block bay windows, the internal spaces are allowed to push out through the masonry into light weight aluminium clad bays with generous windows and glazed balustrades.
Individual cottages are identified by dark gray glazed brick shadow gaps on the party wall line and the coloured glazed brick panels at windows, where each house has its own colour.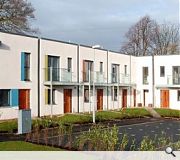 Back to March 2009