7N find their feet
|
Send to friend
March 4 2009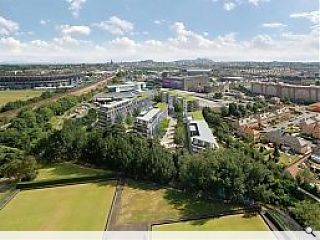 Scotland's newest architecture practice, 7N, has been born from adversity, the product of a fragmented parent, Make, as they migrate back to southern homelands.
Today's challenging and changed world was never going to be the ideal environment to introduce a fresh face but the team at 7N have found their feet in double quick time, necessity as they say breeds invention.
Ewan Anderson, Partner at 7N, memorably describes the experience: "You've jumped out the plane, the parachutes ready… we've survived so far!
"Everybody told us, 'you'll lose the house', but all our families have been 100% supportive. What really drove the process was the chemistry of the team, it felt like the right thing to do."
This chemistry is evident within the comely confines of the practices Palmerston Place gaff. Occupying a former townhouse the elegant offices are suffused with light from a dramatic bay window, accentuated by a full height mirror that illusorily doubles the space on offer.
These homely surrounds are well conducive to a relaxed atmosphere at which the banter freely flows without recourse to email and telephones, small perhaps really is beautiful.
Already the fledgling practice have secured work on a new further education campus at Inverness and an affordable housing project at Westfield, thanks to the beneficence of Make, with the prospect of more to follow. architecturescotland wishes the team well.
Back to March 2009