ARM lend Jamaica St a helping hand
|
Send to friend
March 4 2009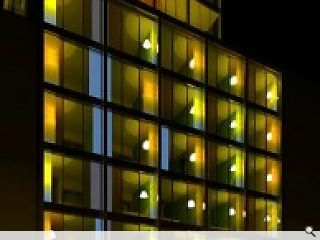 New hotel provision from Greystones Ltd is proposed to augment Glasgow's exponentially mushrooming stock on Jamaica Street, hot on the heels of Staybridge. Located at a long standing gap site of some five years, the £6.5m hotel aims to heal a wound in the streetscape whilst simultaneously contextualising the neighbouring Grade A listed Gardners Warehouse.
ARM Architects design establishes a basement kitchen area servicing a bar/restaurant on the street frontage, nine floors of accommodation providing a total of 115 beds rest above, the uppermost four recessed some 7m for continuity at eaves level. Technal MX curtain walling with anodized aluminium finish, tinted and opaque glazing units and a granite & structural glass at street level dress the hotel from the street.
The primary elevation is set within a fully glazed 5x5 grid of bays defined by an externally expressed structural steel frame that identifies each hotel room by three vertical panes of glass, some of which will be opaque, this echoes the proportionality of solid to void seen on Gardners.
The Central Station corridors importance is equated with Jamaica Street such that front and rear elevations are accorded equivalent architectural consideration. A restricted street frontage is overcome by intoduction of a central atrium allowing bedrooms per floor to be maximised.
Work is scheduled to begin on the proposal later in the year.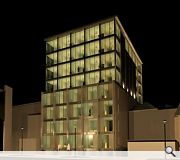 Back to March 2009