Tinto Primary redraws Pollokshaws
February 26 2009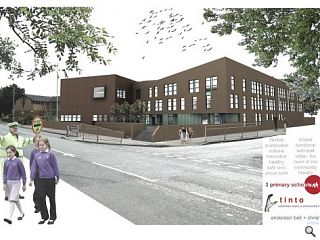 Tinto Primary School is to be rebuilt by Anderson Bell + Christie for Glasgow City Council Education Services as a community hub for the Pollokshaws district of Glasgow.
The beefed up school will soak up rolls from the existing Tinto Primary School, Sir John Maxwell Primary School, Shawbridge Nursery School and Pollokshaws Day Nursery as a one stop shop for children in the area.
Spin off benefits of the scheme will filter through to older generations by opening school facilities to the wider public, such as the artifical pitch, games hall, library and selected multi purpose classrooms. A neighbouring church is accommodated into the design through provision of a public square which serves to enmesh the twin spaces.
Sixteen classrooms, with capacity for five hundred and seven pupils, a new early years centre nursery facility for a further 85 children, 30 toddlers and up to 15 infants are provided for in the build.
Massing of the school is designed to sit comfortably within the predominantly suburban domain but provide "a strong identity and landmark of note" within that context. Busy adjacent roads are cushioned by "breathing spaces" along this perimeter and a sunny south facing safe play courtyard is created by clustering buildings to the north.
The present Tinto Primary building, branded "weak" by HM Inspectors in September 2006, will be demolished to make way for the facility. Amongst other failings inspectors were perturbed by an odoriferous boys toilets, water ingress, dry rot, vandalism, poor disability provision and hallways part used for storage.
Tinto Primary's replacement has been costed at £14,505,607.94 and is scheduled to move on site soon.
Back to February 2009