RLF licensed to thrill at Lambhill
February 23 2009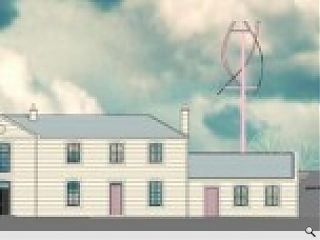 A famous 150 year old stable complex in the North of Glasgow, which housed the horses used for pulling barges along the Forth and Clyde canal, is to undergo a major transformation into a community training and development facility.
The C listed Lambhill Stables were built in 1856 and are currently derelict, despite playing a key role in Central Scotland's canal-based economy.
Now however the Stables are to undergo a £1.5m redevelopment into a 580m2 mixed use community facility, including office and training space, conference facilities, workshops/studios for hire, a kitchen and café area, visitor centre and viewing tower. The building will be heated by biomass, eventually delivered by canal barge, supplemented by solar and wind power.
Plans envisage restoring the existing historic stables block with a dramatic new build visitor centre and tower alongside. Old and new elements will be interlinked by a 'social corridor' that will also double as exhibition space with informal meeting and breakout areas.
When complete it will deliver a wide range of occupational training, employment and personal development services to adults and young people coping with chaotic lifestyles, mental health issues, disability and learning difficulties. One of the UK's leading property and construction consultancies, Robinson Low Francis, has won the contract to provide Quantity Surveying services for the redevelopment.
Back to February 2009