Wilson's Weekly Wrap: You and me and rain on the roof, The best is yet to come & Trumped
February 23 2009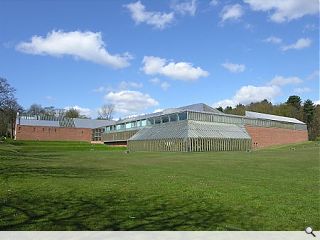 You and me and rain on the roof
I made brief reference to the Burrell Museum last week, the context being the City of Glasgow Council's regular complaint that National Galleries in Edinburgh receive Scottish Government funding whilst similar quality facilities forty odd miles away, being in municipal ownership, are not beneficiaries of the same largesse. Whilst the argument will only become more fractious as Glasgow generates less and less Council Tax from the fewer and fewer residents in the financial position to pay, the inevitable consequence is diminished resources available to sustain the city's cultural infrastructure.

Since neither national nor local politicians seem likely to tackle the actual problem – the escape of middle class votes and incomes to suburban areas beyond the city's boundaries and hence its taxation net – the obvious answer would be for Glasgow's galleries and museums to become integral parts of the National Galleries and National Museums of Scotland. There would be difficulties in doing this of course, not least being the issue of material left in trust or on loan to the city's institutions, but the majority of these legacies were made in pre-devolution days and merit scrutiny to see how inviolable they actually are.

The point here though, is that an enlarged national estate could more effectively resource the conservation and display of the collections; ought to be able to effect substantial efficiencies in operational matters; and in marketing terms should be able develop a far stronger international profile. Rarely seen reserve collections could be examined to see what new buildings were required – and where – to best display their contents. In the fullness of time, a new generation of world class, cultural facilities could emerge, making best use of national funding and drawing on the high level international philanthropy that has been the hallmark of the Edinburgh institutions in recent years.

But will any of this happen? Of course not – in their characteristic insular way, Glasgow politicians will fight tooth and nail to preserve the independence of the city's institutions whilst continuing to argue their case for national funding. There's more than a little schizophrenia involved here, though, for let's not forget that last year the city hived off the running of its cultural facilities to a new charitable body – 'Culture and Sport Glasgow' - because, as leader of the Council Steven Purcell stated at the time, "the new company will be able to attract investment in ways which the Council cannot." It might be me, but I'm fairly sure taxpayers in other parts of Scotland who read this at the time didn't actually realise this might mean being asked to subsidise Glasgow's galleries and museums, especially as they weren't exactly being offered up as a nationally available resource.

So, the options seem to be for the second city to either carry on as it is (minus the whinging) or begin to seriously explore how it's participation can strengthen and enrich the country's cultural infrastructure. Whilst we await that quantum leap in metropolitan thinking, however, the city needs to get on with fixing the leaking roof of the Burrell Museum since, until such times as things change, it still has full responsibility for doing so and indeed was given a substantial legacy by its eponymous founder to ensure the structure put up in his name was properly maintained. If the City of Glasgow Council finds itself unable to do this, then it would be good if it could provide a full explanation of what its done with the money before it goes asking for contributions from anyone else.

The best is yet to come
Before the paranoiacs in Raintown start (or continue) to stick pins in wax dummies of me, let me assure them that my fascination with two-faced politicians doesn't only apply to Glasgow's finest: Auld Reekie has its fair quota of them too although whether corrupt as well as incompetent is really hard to say. This past week has seen something of a come-uppance for them though, with UNESCO's report on the city's World Heritage Site status slating in particular their astonishing readiness to give the much-maligned Caltongate development planning permission in the face of almost universal public opposition. In normal circumstances, of course, the councillors would simply ride out such criticisms and carry on as before until such times as an election looms on the horizon, at which point of course, the melody changes.

These are far from stable times, however, and the Council is being pressed to look again at the project, especially as the developer, Mountgrange, is not having its financial troubles to seek. With debts currently standing at £24m, the company's auditors took the highly unusual step of qualifying its recent accounts with the statement that "there is a material uncertainty that casts doubts over the company's ability to continue as a going concern." Mountgrange has of course tried to make light of this and has been at pains to insist that it will proceed with the project but, at a mooted cost of £300m and with its credit rating hardly enhanced by the comments of its auditors, it's not entirely clear which of our many rock-solid banking institutions the company hopes to draw down the necessary funds from.

If I were a betting man, I'd be looking ahead to the next set of plans for the site. I've lived nearby for many years and during that time have seen at least five proposals for it that have been very different in both content and quality and feel absolutely confident the most appropriate solution is still some way off. It's hard on the various architects involved, all of whom I am sure need the work just now, but let's be honest, nobody else is going to shed tears for this particular scheme – it was designed for an economic age now passed and was not doing the profession any good reputation-wise. Time then for a proper (i.e. not developer-led) appraisal of what this site really needs and what this part of the Old Town can actually absorb. In other European cities such a study would form the basis for an international design competition: here we can only dream of such things.

Trumped
Things are not looking too good on Donny's dark side: his casino organisation, Trump Entertainment Resorts, has just filed for bankruptcy with debts of $1.74bn. Nine other Trump companies including Trump Plaza Associates, Trump Marina Associates Trump Taj Mahal Associates have also sought protection from creditors and the documents submitted as part of the petition for bankruptcy hardly incline you towards a trip to Atlantic City's famous boardwalk to bet on their future. Indeed, Trump Entertainment, owner of three casinos in the New Jersey gambling haven missed a £53m interest payment at the beginning of December and the creditor extended grace period to make the defaulted payment expired last week. Whether or not the company came up with the readies in time is not known by the Wrap at this stage but it seems fair to speculate that the green keepers of Scotland, many of whom recently applied to work on the proposed new links courses at Menie, may now be pushing others forward in the queue for the positions. Better the Devil you know after all.

And finally…
Returning to the Glasgwegian talent for hitting out at new government ministers before they've even had time to get their feet up on their desks, I see the non-native Weegie Nick Barley is using his Lighthouse platform to show he's just as good at getting down and dirty as the locals. As reported earlier on the architecturescotland website, Nick reckons the architectural community contributed £1.5bn to the economy last year, although whether this applies north of the border only or to the whole of the UK isn't entirely clear. More's the pity, because if applied purely to this end of the country, each of our architects can be seen to have been personally responsible for introducing a very healthy £375k into the economy and therefore worthy of a much larger and far more positive news story in these difficult times. If applied to UK overall, however, it only amounts to £50k each and immediately raises the question as to why we train so many architects if they generate so little individual net value to the economy.

Which brings me to Nick's second point, i.e. the rumour (source unknown) that 50% of architects are now, or are about to become, unemployed, a statistic that allows him to ask unspecified government representatives, "can you give support?" Now you'll immediately appreciate the conundrum here: based on Nick's statistics and applied to Scotland only, there is – on the face of it – a normally healthy sector struggling for survival and at least as worthy of public funds as those jolly chaps down Gogar way. If however, we are looking at the overall UK situation, then old Henry Ford's reflection about advertising might usefully be adapted to the architectural scene, i.e. that only 50% works but it's not possible to tell which 50% it is.

Aside from the predictable government response of "which 50% would you like us to support Nick?" you feel the next question will be "why didn't these architects stick any money away when times were good?" followed quickly by "and what precisely are the professional institutions doing to support the redundant 50%?" The moral of the tale, Nick, if you'll forgive me saying so, is to avoid bandying statistics with politicians - times are hard enough without exposing Scotland's architectural body politic to the kind of scrutiny it most assuredly is keen to avoid.
Back to February 2009