Solar flare from Changeworks
February 20 2009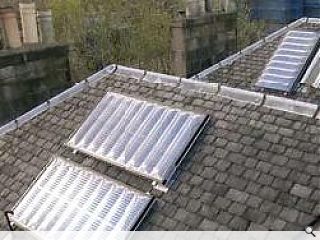 Pioneering work to bring renewable energy installations to listed, multi occupancy buildings begins this week with the installation of solar panels on the roofs of seven B listed Georgian social housing tenements.
Pipe work will connect directly from the panels to all individual properties supplying some 50% of their annual hot water requirement.
The £200,000 Renewable Heritage project is being run in partnership with Changeworks, Lister Housing Co-operative, Edinburgh World Heritage, eaga Charitable Trust and The City of Edinburgh Council.
Jenny Lewis, Chair of Lister Housing Co-operative, is delighted, saying: "This project will help reduce our tenants' fuel consumption, save carbon and support Scottish jobs, without in any way jeopardising our B-listed Georgian tenements – it's a win-win solution".
It is hoped that this work can serve as a model for others living in historic homes to generate their own clean energy without detracting from their heritage value.
Back to February 2009