North Glasgow College has a Spring in its step
February 13 2009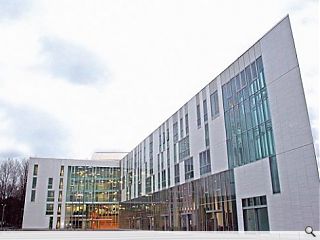 RMJM have taken local inspiration for North Glasgow College, an educational facility spearheading the ongoing regeneration of the North Glasgow community.
Paul Stallan, European Design Director with RMJM, was born in Springburn and was familiar with the site and the area, including Springburn railway station, which is immediately behind the new building and is crucial in providing access to the College.
Occupying a 5-acre brownfield site the college sports a fully equipped games hall, conference facilities, multi-media open plan libraries and beautifully appointed music rooms offer wonderful opportunities for learners in a vast array of fields from arts and fashion, through business studies to engineering, construction and supported learning.
The building is energy efficient, maximising natural light and is largely naturally ventilated. The main body of the building features diagonal arm which embraces public space and emphasises the north/south alignment, making the building directional like a compass -pointing the way ahead!
The new design also derives maximum benefit from midday and afternoon sun with a generous south facing landscaped entrance plaza and has been constructed to meet BREEAM environmental targets.
The plaza/campus front has two large underground tanks. One from which rain-water is recycled for basic purposes such as the flushing of toilets and the other to collect rainwater to help prevent flooding by the subsequent controlled release of this water into the drainage system.
The interior of the new College has been designed to create a light, airy and interactive learning environment. It features a range of outstanding facilities including a multi-media open plan library, music rooms with Dolby surround sound systems, conference and lecture facilities (a first for Springburn) and an games hall which may well be used as a training venue for the 2014 Commonwealth Games.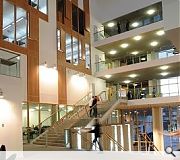 Back to February 2009