Sudden death of Quality Street head
February 9 2009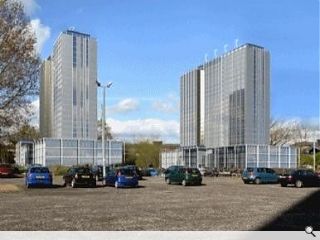 Paul Mugnaioni, a former chief of Glasgow District Council's housing department turned property developer, has died suddenly at the age of 58.
From 1981 Mugnaioni was at the helm of Europe's then largest housing portfolio before departing to set up Quality Street, his own development business.
Quality Street made headlines last year with proposals to transform around a dozen Glasgow tower blocks into private accommodation.
Plans drawn up by Holmes Partnership and engineer White Young Green called for two tower blocks at Norfolk Court, Laurieston, to be reclad in air tight, thermally efficient materials, with photovoltaic panels in the skin and wind turbines on the roof.
The proposals met with a decidedly chilly reception from Laurieston Regeneration Steering Group and Urban Initiatives however. Both groups were angry that the proposal ignored their £450m masterplan for the area, which called for the blocks demolition.
Back to February 2009