Howard street hotel on the way
February 9 2009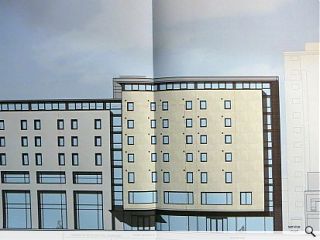 A planning application has been submitted for a new hotel at St Enoch Square, Glasgow, by North Ltd and Farrell & Clark.
The development will require the demolition of a semi derelict structure that is currently home to a Somerfield supermarket. Replacement retail space will be provided on the ground and first floor levels of any new build.
Height is dictated by the junction of Howard and Dixon St, regarded as a feature corner that should respond to the six storey datums framing St Enoch Sq. An internal atrium rises through the hotel portion of the L-plan footprint from the second floor.
A tower element of some 15 floors was refused on grounds that it would "contravene Glasgow's high buildings policy".
The 229 room hotel will be fashioned from limestone, polished blockwork and colour coated metal and will complement ongoing refurbishment of the St Enoch Centre.
Back to February 2009