Water good idea
January 21 2009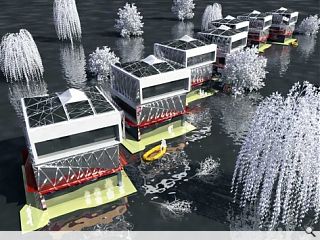 A flood tolerant house design has been unveiled by Cre8 Architecture, utilising the ingenuity of nature's water lilies to solve the problems of man.
The elaborate concepts were launched as part of a competition run by insurers Norwich Union with support from the Royal Institute of British Architects (RIBA).
Both organisations were concerned with increasingly watery projections for the future and a related encroachment upon flood plain land.
Cre8's commended entry provided a water tight family home and garden that can be clustered amongst like minded structures to form a veritable suburban archipelago.
These designs will not be forgotten as mere competition entries however as they are published in a compendium of design strategies, each applying a unique approach to the mitigation of flood risk. Providing a useful resource for future land starved architects.
Recognising that the only certainty of the future is continued change the Cre8 team plumped for the core attributes of efficiency, sustainability and social responsibility.
The resulting concept opted to let water in rather than push it to the side. By building in such a measure of absorption vulnerable adjacent areas are afforded a degree of protection.
A floating pad provides buffer between liquid and solid, from this a central core of services provides the backbone of the house. A double articulated joint at first floor level allows the height of the ground floor to vary without impacting upon the first floor and above.
Such techniques aim to tame the powerful forces of nature, allowing habitation of borderline areas and easing pressures on scant land.
Back to January 2009