Fettes College feted
January 14 2009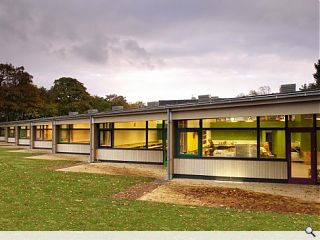 Fettes College, an independent boarding and day school, has opened a new Preparatory School and Rifle Range.
These facilities were designed by Page/Park architects with Thomas and Adamson acting as consultant. The accommodation provides classrooms, an art school and library each with underfloor heating, natural ventilation and daylight
The Rifle Range will cater for the activities of the Combined Cadet Force at Fettes College, replaceing a previous rifle range which was demolished for new accommodation at Craigleith House.
Martin Tolhurst, Bursar of Fettes College said, "These projects form part of the long term vision of the College Governors to modernise and develop our facilities. We are delighted to continue our long established relationship with T&A who throughout the planning and implementation of both projects provided an exceptional level of professional services."
Commenting Les Banks of T&A said, "We enjoy a great level of mutual trust and respect with Fettes College. The two most recent projects completed this year demonstrate that T&A can adapt to clients requirements no matter how diverse. We believe these qualities play an important part of our ongoing business relationships."
Back to January 2009