Merry Christmas!
December 23 2008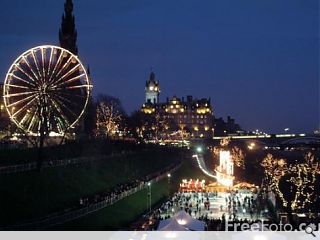 It's a big, bad world out there, and particularly at Christmas. Can it be a coincidence that Santa dresses in red and is an anagram of Satan?
According to the Royal Society for the Prevention of Accidents (RoSPA) more than 80,000 UK citizens end up in A&E over the festive period,some 6,000 on Christmas Day alone - and it's not just that out of control office party or children falling off their new bikes either.
A few specific statistical Christmas horrors are that over 30 UK citizens have died since 1996 by watering their Christmas tree while the Christmas lights were plugged in.
So far so stupid but, in a three-year period, 19 people have also died believing that Christmas decorations were chocolate.
British hospitals report about four broken arms each year after cracker pulling accidents and five Britons are injured every Christmas in accidents involving out-of-control Scalextric cars.
More predictably, about eight Britons crack their skulls whilst throwing up into the loo and end up in hospital.
There may be 1,200 chainsaw accidents a year, but don't seek safety behind the couch as over 16,000 people are injured by their sofas.
Socks and tights account for over 10,000 injuries (statistitians do not divulge if this is through putting them on or pulling them off), and vegetables account for more than 13,000 injuries. (The statistics don't list which fruit and veg are most dangerous, so best keep clear of all of them).
If you go out, don't walk near birdbaths (311 injuries) or wear wellington boots (5,600). Don't even think about putting on trousers (5,900), don't be rude to the breadbin (91) and be very wary of that tin of talcum powder (73).
If you can't eat, relax in the living room, or wear clothes, don't make the elementary mistake of thinking that the bathroom is a safe place. There are over 700 sponge and loofah accidents per year – and toilet roll holders, strangely, account for another 300 visits to A&E.
Have a very Happy Christmas!
Back to December 2008