Environmental saviour
December 23 2008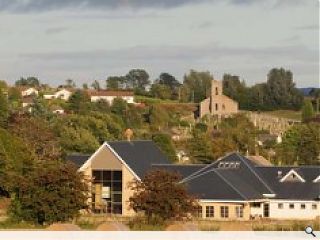 Ashes to ashes, dust to dust… old mobile phones to bricks and mortar… a new church in the village of Bankfoot, Perthshire is attempting to call god by ringing in the changes as a green exemplar.
The ambitious church has decided that the mere saving of souls no longer cuts it in the 21st century and is now embarking on a crusade to save the environment too.
Despite the usual nativity plays within, a very unconventional approach has been taken without In a waste not want not approach roof tiles have been fabricated from recycled quarry dust, the timber frame is sourced from renewable forests and old welly boots have been enrolled for cladding.
Energy needs are satiated by a ground source heat pump, providing underfloor heating and a series of wind turbines. Such features bless the structure with the carbon footprint of a two bed bungalow.
This new chapter was brought about by a devastating blaze which consumed the 19th century original, its ruins stand still as a testament to the vagaries of fate. These fires of damnation however ultimately seeded a spark of creation as parishioners regrouped and re-imagined what a church should be.
The good people of Bankfoot are banking on a green Christmas by putting their best foot forward in providing an answer to environmentalists prayers.
Back to December 2008