Mission made possible
December 19 2008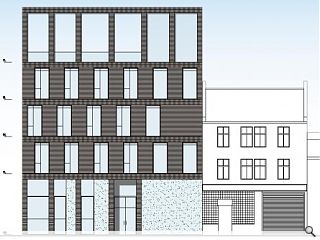 Glasgow City Mission are in process of relocating from their current premises to an under construction facility on Brown Street.
The flit is being financed courtesy of the god of capitalism, taking earthly form in the shape of Gladedale Capital Ltd, who are providing land for the ministry free of charge in exchange for an existing property on McAlpine St (the site of 220 Broomielaw).
The only costs incurred on the god loving carers will be the expense of adding facilities and systems that do not exist in, or cannot be moved from, their current offices.
Presently dispersed administration and storage units will be combined within the new hub, designed by Elder & Cannon, saving on logistical and rental expense.
As a shelter for the homeless the new unit provides one to one support, pastoral care, clubs, trips and activities. These will all benefit from a new IT room and café, open plan arts space with kiln and potters wheel, gym, music room and a rooftop garden.
In addition a range of catering, educational and medical facilities are provided.
Completion is anticipated for May 2009.
Back to December 2008