Field of dreams
December 15 2008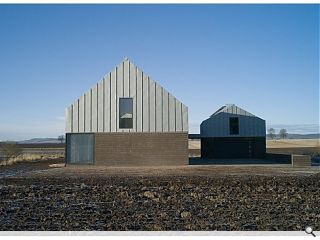 An architecturally distinguished residence has taken shape in a quiet corner of the rural landscape of Meigle, Perthshire.
Designed by Graeme Hutton and David Jameson of the University of Dundee in conjunction with LJRH Chartered Architects the country house has been designed on behalf of Mr & Mrs Drummond who wished to erect a purpose built home which could accommodate a studio, workshop and garage.
An exceptionally raw and beautiful agricultural landscape dominates the barn like property in all directions, prescribing an earthen palette of brick to harmonise with the tilled soil. No boundary features of any kind allow the free flow of space and light around and through the home by way of floor to ceiling glazing.
Project architect Graeme Hutton advised: "the new building is designed to extend our preoccupation with 'Place, Programme and Presence' as a guiding narrative in the creation of New Scottish Work.
"Architects rarely discuss or readily acknowledge their initial visceral responses to a 'Place' in the design process, yet we believe recognising and interpreting this response to be key in the creation of meaningful work."
Sadly David Jameson died last year before the project was complete but the design marks a fitting tribute thanks to Mr & Mrs Drummond who, from the outset, recognised the importance of architecture and have self-built 'The Shed' in accordance with the architects vision.
Back to December 2008