Stars drawn to charity event
December 11 2008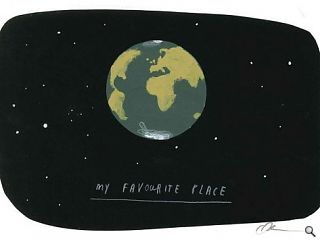 A host of celebrities, including Brian Cox, Colin Montgomerie, Oliver Jeffers, Scott Hastings and Lorraine Kelly, have put pen to paper in a night of creative fun. Commissioned by international architects RMJM, the event raised over £4,000 in an auction for the Children's Hospice Association Scotland (CHAS).
Locally based artists and personalities from the world of sport, cinema and literature were asked to draw their favourite place to celebrate the 'Quick on the Draw' exhibition at the City Art Centre in Edinburgh. This looked at how people in many walks of life use drawing as a vital tool in their work and aims to encourage both children and adults to pick up a pencil and get creative.
Award-winning artist and illustrator Oliver Jeffers raised the highest bid of the night with his drawing of planet earth raising £500. Brian Cox's sketch, inspired by Sir Henry Raeburn's 1795 oil painting of the Reverend Robert Walker skating on Duddingston Loch in Edinburgh, fetched £200. Lorraine Kelly's drawing of herself enjoying a relaxing bath raised £125. A sketch of the village of Plockton in the Scottish Highlands by former Scotland rugby internationalist Scott Hastings raised £275 and golfer Colin Montgomerie's picture of his family home made £120.
RMJM Director, Paul Rodgers, said:
"In the age of sophisticated digital imagery and computer technology, it's easy to forget that we all have the potential for creative 'genius'; or more simply the basic ability to communicate visually through drawing.
"Our aim was to create a different kind of event that would promote the art of drawing, stimulate creativity and raise considerable funds for CHAS. We've achieved that and more and the feedback has been so good that we may replicate the event in another location too. Everyone involved has been delighted with the money raised and we hope to continue working with CHAS in future."
Back to December 2008