Paisley weaves a new cultural quarter
December 9 2008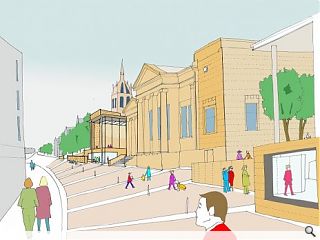 Page \ Park's recently completed pre-feasibility study for Renfrewshire Council has been unveiled.
The practice has drawn up plans for a new cultural centre in the town following a brief from the Public-Private Partnership 'Paisley Vision'. The proposals entail refurbishing the existing Town Hall and Library whilst extending the Museum to provide improved cultural facilities.
The first Phase of the £30m proposals will be the £7m refurbishment and enhancement of the existing town hall which will accommodate the central lending library in one of its wings.
This will allow the existing library space to be incorporated into a new Cultural Centre which will comprise gallery facilities as well as providing a new 175 seat auditorium with cafe and bar.
David Page commented: "The Town Hall and Museum and Art Gallery are 'blockbuster' buildings in the town. With a little bit of care and attention they will anchor Paisley's continued transformation".
Streetscape will be transformed into a public space that will not only provide access to all the facilities but will attract local residents and visitors to the cultural centre.
A new circulation route up the sloping site will create a visual connection from the High Street to the Paisley Observatory.
In addition to restoring the magnificence of existing listed public buildings the works will increase visitor numbers to Paisley's cultural venues, transforming the former textiles champion into a cultural force.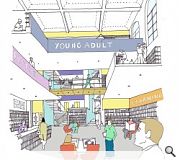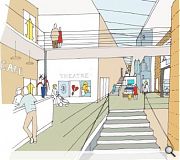 Back to December 2008