Dynamic duo pull off joint accolade
December 1 2008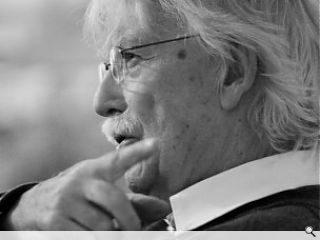 Professor Andrew MacMillan and Professor Isi Metzstein have been named as joint winners of the RIBA Annie Spink Award for Excellence in Architectural Education.
Established in 2000, the biennial award is open to individuals who have made a significant contribution to architectural education. It is open to individuals or groups working on any RIBA recognised course, who are or have been involved in teaching and the development of architectural education.
Nominated together, Andrew MacMillan and Isi Metzstein (known through the architectural profession as "Andy and Isi") began their teaching careers in the 1960s. During the 1980s, Andrew headed the Mackintosh School of Architecture in Glasgow and Isi became Forbes Professor and Head of School at Edinburgh University School of Architecture. Both continued to work together, visiting the others' school as visiting lecturers and tutors. They have made major contributions to curriculum development at University College Dublin, the Mackintosh and Edinburgh University, and have been external examiners at over 20 RIBA validated schools. In addition, Andrew was also a long time member of the RIBA Education Committee and a member of RIBA Council from 1971-1987 and Vice President of Education from 1981-1985.
The chair of the judging panel, Simon Allford, RIBA Vice-President for Education said:
"The judges were unanimous in their verdict. Andy and Isi's contribution to education is phenomenal and they established architectural excellence for a decade at the Mackintosh School of Architecture, a huge achievement and influence for the future."
Andrew MacMillan and Isi Metzstein will be presented with the Annie Spink trophy and a cheque for £5,000 each at the President's Medals Awards ceremony at the RIBA on Wednesday 3 December.
Image provided by Mark Seagar.
Back to December 2008