Wilson's Weekly Wrap: Mea Culpa, Crisis? What Crisis? and Carrying all before him
December 1 2008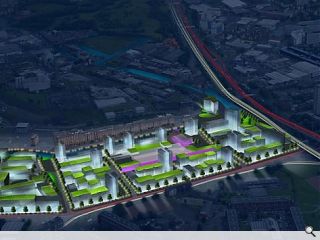 Mea culpa
Before we go any further I have to make a confession – I read the signs completely wrongly a couple of months ago when I mentioned MAKE's astonishing financial success. In mitigation, I was referring to the company's published accounts for 2007 and that was then and this is now and there is simply no telling when or where the credit crunch will strike next. In this case it has nuked MAKE's northern outpost in Palmerston Place: the sad announcement contained in the latest press release from Ken Shuttleworth's London hq is that his Edinburgh studio is to close with a consequent loss of jobs.
The company – more particularly, some its larger clients – has been hit hard by the collapse of the Lehman Brothers Bank and, as has happened to so many other practices, major projects have either been put on hold or cancelled altogether. The company has taken swift action to retrench to its metropolitan base and, given its relatively high profile, has sensibly decided to issue a statement to that effect rather than see its future business potential compromised by the inevitable gossip that would otherwise run amok through professional circles.
Personally I am sorry to see MAKE leave Scotland: the company's presence here brought an added sparkle to the competition for projects and helped to raise the bar as regards quality of submission. The tragedy is that the practice did have work here, and a very sound local team to carry it out. Presumably, in an all too familiar story, these projects will now be managed from London, but it's difficult to see, once these are completed, how MAKE will fare north of the border as and when normal architectural life resumes here. Whatever, there will be now be quite a few talented people adding to the numbers of architects currently walking the streets of Edinburgh in the search for work and it is only to be hoped that they find new employment sooner rather than later.
Crisis? What crisis?
The tale of redundancy at MAKE is not an isolated one: the difference between it and other companies is that it has chosen to go public on its current difficulties whilst other practices have taken the more familiar option of laying staff off as quietly as possible. The problem with this latter approach is that it disguises the sheer extent of the crisis that is now afflicting the architectural profession – in practices of every size there is now real redundancy blood on the walls and there can be little doubt that more will follow in what looks like being a very long and bleak winter.
Whereas only a year ago I could speak to practice principals and be assured by them that there was at least 18 months of work in the pipeline, few are now able to highlight projects with any life beyond next March - at best. And with no new commissions coming in, those practices that failed to set aside money from the good times to protect them from the inevitable industry downturn are feeling the pain of this far more intense crash faster and more directly. Some of those who survived previous construction industry recessions have been quick to retrench whilst others, less experienced, appear to remain naively hopeful that it will be all right on the night and that their bank will support them through the crisis. Wish.
What is more worrying is that the professional organisations – the RIBA and the RIAS – who have ample records of past downturns to refer to – have yet to shout loudly about the scale of this crisis or indeed to specify the extent of assistance or advice they can legitimately offer to their members. RIBA President Sunand Prasad's pontifications in this respect have been both laughable and lamentable – does he really believe architectural practices with hungry mouths to feed at the end of every month are going to survive by advising people on how to insulate their lofts? At times like this, architects need their professional leaders to indicate the way forward and actively lobby to achieve it: what they don't need is insincere hand-wringing and fatuous solutions.
Carrying all before him
Amidst all the doom and gloom, at least one practice has had a good few weeks. Aside from an exhibition and a publication celebrating his practice's first decade of work (yes, I know I panned the book in 'Prospect', but my comments were about the sloppy, formulaic nature of the tome rather than on the quality of the projects it documents), Gareth Hoskins has come out tops in Prospect's 'Power 100', and carried off the 'Glenfiddich Spirit of Scotland' art prize awarded by readers of Scotland on Sunday.
These accolades, on the back of the success of his designs for the new Culloden Battlefield Visitor Centre and the Scottish pavilion at the Venice Architecture Biennale and the various other architectural awards the practice has received recently are remarkable achievements in themselves, but the latest - his bullseye in the controversial selection process to find an architect for the Housesteads Roman Fort in Northumberland, the World Heritage Site on Hadrian's Wall – is surely the icing on cake.
I have to say I did worry a little when the Venice project was given the unfortunate title of 'the Gathering Space', a name all too similar to 'the Gathering Place', the BBC propaganda film about the Scottish Parliament and, sure enough, the job shot well over its allocated budget despite considerable sponsorship support. Thankfully, politicians weren't in charge of this one and the general consensus seems to be that the temporary theatre structure was a success in Venice. With such international exposure though, it's surely time for Gareth to let up on the 'small guy foraying out from north of the border' and 'winning projects against all the big names from London' rhetoric: his now sizeable practice is well able to hold its own in any company and has no need for either false humility or discomfort with its hard-won and well-deserved recognition.
This week's risers and fallers
Maybe it was the mention last week of my league table of architects working in countries with human rights records that are, shall we say, more of the tired grey undergarment variety than of the brilliant Daz whiteness we expect – or at least hope for - from modern enlightened governments, but Lord Foster and Zaha Hadid have obviously taken their placings to heart and moved quickly to restore their top-dog premier league positions. What else can be the reason for this week's announcement that both practices are to be involved in major design work at Mecca in Saudi Arabia?
The two are of course no strangers to commissions from administrations that are a teensy bit lite on democracy but otherwise irreproachable in their healthy regard for the welfare of their citizens - indeed this is the very reason their stars shine so brightly in our league table. As an Iraqi, Zaha might be thought to have at least some of the credentials to justify involvement in one of the Muslim world's most sacred shrines - although her gender may possibly affect the frequency of her site visits during the construction of the redesigned Haram Mosque - but Lord Foster's engagement on a project intended to house a transient audience of 3 million people is evidence of the maestro's marketing chutzpah at its best. For this reason, uncle Norm takes top spot in our leader board this week and Scotland's strongest challengers who had done so well over the previous seven days will just have to buck up if they want to regain the amoral high ground.
And finally…
The sad news of Jorn Utzon's death at the age of 90 brings the curtain down on a remarkable career. Known to the world as the man who designed Sydney's waterfront Opera House and to the profession as the architect who never visited the building after leaving the project in disgust at the financial and other changes being made against his wishes during its construction, Utzon produced a remarkable range of buildings, not the least of which were the houses he built for himself in Mallorca.
In his final years Utzon was given the much overdue opportunity to correct the acoustic problems of the Opera House and to complete the building's interiors according to his original designs, a task he carried out in conjunction with his son as he himself was too frail to travel to Sydney during the works.
Few architects are privileged to have one of their own buildings stand as a monument to their talent, but Sydney Opera House is that rare beast: a building that is genuinely 'iconic' insofar as it actually symbolises something. Few cities have structures that, when seen in photographs, are immediately and universally associated with their location - the Eiffel tower is an obvious example, but the 20th century produced few real equivalents. In this respect Sydney Opera House stands out as an instantly identifiable project by an architect with a unique ability – through this one building, Utzon made it possible for the general mass of people to be excited by modern architecture.
Back to December 2008