Agricultural-style Ayr nursery set for expansion
February 9 2023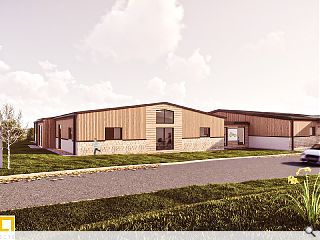 An Ayr nursery is set for significant expansion with proposals for a new build extension to match its rural setting.
Heads of Ayr Nursery propose extending their current premises at Laigh Kyleston Farm to accommodate the growing population of Doonfoot, in keeping with traditional farm steadings and sheds.
Casa Design Architects propose an ancillary structure, establishing the nursery as a cluster of buildings in an agricultural vein. This would provide capacity for a further 48 children in two large rooms overlooking an outdoor play area.
In a statement the architect wrote: "The design for the proposed ancillary extension is set back from the frontage and separated from the building, being joined by a simple link rather than simply extending the current portal gable structure, which would have visually dominated the site. The height of the proposed extension is lower than the main building.
"This allows the supplementary extension to be perceived as being secondary to the more prominent main Nursery building, whilst creating visual interest and reducing the overall scale and massing."
A matching materials palette of timber cladding, a stone base course, white render and a composite steel roof is proposed.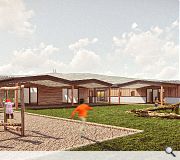 The new extension will be subservient to the current nursery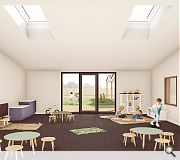 Two new play rooms are oriented toward an enclosed outdoor playground
Back to February 2023