Pressure mounts on RIAS to intervene in Wyndford demolition debate
January 19 2023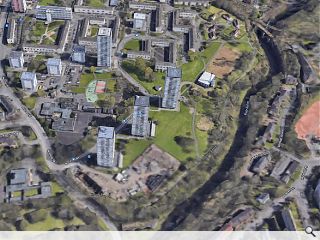 Pressure is mounting to reassess proposals to demolish four tower blocks on Glasgow's Wyndford estate amidst a backlash from protesters and architects.
Tensions have risen on the estate with six people arrested for vandalism following the occupation of empty homes by members of the Young Communist League of Britain. This follows coordinated efforts by architects such as Kate McIntosh for landlord Wheatley Homes to reassess its plans.
Writing in the AJ today Malcolm Fraser adds his voice to such efforts with a call for greater value to be placed on embodied carbon, noting analysis conducted by opponents suggesting that 22,465 tonnes of CO2 would be emitted under demolition versus 12,098 through retrofitting.
Fraser wrote: "...we need to recognise our profession's complicity in all this. Colleagues sometimes look askance at retrofit – 'not proper architecture' – for where's the glory to be gained from humble retrofit, compared with a waste-and-spend cycle with its pontificating about style, green gizmos and good urbanism?"
These concerns found an echo in an open letter to the RIAS by Alan Dunlop, who observed: "These residents clearly believe its time to drop the demolition proposals and, like Cedar Court for GHA to propose a more progressive and enlightened approach.
"It's time for the architectural profession in Scotland also to speak up and join the debate. The silence of the RIAS, so far has been deafening."
Preparations for demolition continue to be made with a blow down expected in the Spring.
Back to January 2023