Lost arcade to rise again in Sauchiehall Street vision
November 2 2022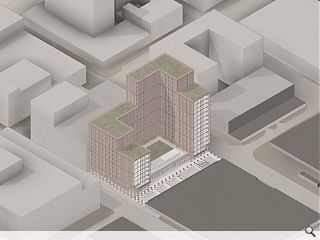 Fusion Development Company has teamed up with Marks & Spencer to propose the mixed-use redevelopment of the retail outlet at 172 Sauchiehall Street.
Plugging the gap left behind by an exodus of retailers from the struggling street, the development would sweep aside the Art Deco block to meet the burgeoning demand for student housing.
Matt Brook Architects have prepared an emerging design concept for the urban site, combining student and potentially mainstream residential for 500 residents within a courtyard block.
Capped by a rooftop terrace and garden the project would retain a significant commercial presence via a ground floor retail unit, with residential accommodation stacked above. As part of the plans the former Wellington Arcade, demolished in 1930, would be reintroduced to facilitate public access to Renfrew Street, itself lined by commercial and amenity uses.
The 12-week consultation launches today at the CitizenM Hotel between 14:30 and 19:00.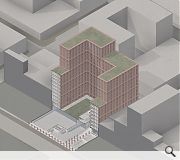 A formal planning application is expected in January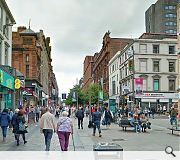 The unlisted M&S building, the earliest part of which dates to 1935, will be demolished
Back to November 2022