Low-energy railway junction home planned for Broxburn
October 26 2022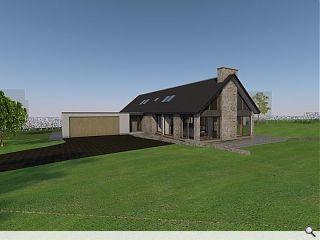 Proposals for a low-energy home on the Edinburgh Glasgow rail line at Broxburn Junction have been filed by LSM Architecture.
Positioned to complement a run of Victorian cottages the property will sit on an expansive plot with a dedicated access road with space for a wildflower meadow and vegetable garden.
Targeting Passive House standards the home will generate heating and hot water from a ground source heat pump with on-site battery storage maximising the utility of roof-mounted solar panels. Mechanical ventilation and heat recovery have been specified to operate with an efficiency of at least 75%.
Advocating approval despite the green field nature of the site the applicant wrote: "It is acknowledged that the development of new dwellings on countryside land is not usually supported. However, it is shown that the site is of low ecological value, low agricultural value and is closely attached to an existing cluster of dwellings. It is a self-contained site with defensible boundaries and the proposals will sit well without encroaching into the wider countryside setting."
Divided between a public wing, bedroom arm and a large garage the home is arranged on the level save for a mezzanine floor overlooking the dining and living spaces.
Back to October 2022