Calton Gaelic school plan makes progress
September 13 2022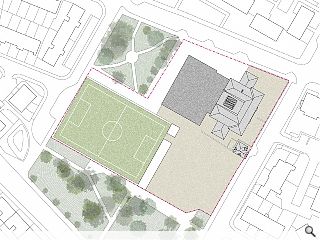 Glasgow City Council has shared further details of its plans to establish a fourth Gaelic school in the city, within the heart of the east end.
Joining the Glasgow Gaelic School to the northwest, Govan Galic Primary in the west and Glendale Primary to the south the school would ensure all compass points around the city centre are served by Gaelic language education.
The former St James' School on Green Street has been earmarked for a significant programme of renovation and extension to accommodate the venture, including partial demolition and construction of a multipurpose hall and kitchen in a new extension.
Classed as being under 'moderate' threat on the Buildings at Risk Register the B-listed building has been brought under the wing of the authority's property arm, with John Gilbert Architects as an energy consultant, to secure its future.
Works will include the demolition of two late addition single-storey toilet blocks the works include the removal of a canted bay element on the rear elevation to rationalise classrooms and improve energy performance.
In a statement, the council wrote: "Further justification for the demolition of the canted bay relates to its internal spaces and their suitability as classrooms as well as its impact on the form factor of the existing building when considering the EnerPHit requirements of the brief. The form factor is the ratio of the external envelope to treated floor area therefore the more external surface area the building has, the more heat losses will occur making it more difficult to achieve EnerPHit accreditation."
Built by Thomson & Sandilands in 1895 the Green Street school was in continuous use until 2009 when the building fabric began to deteriorate.
A canted rear bay will be demolished to improve energy performance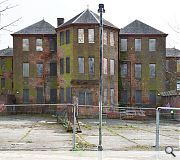 Single glazed sash and case windows are to be replaced by matching triple glazed units
Back to September 2022