Leverndale neighbourhood centre to 'close' Crookston green loop
September 1 2022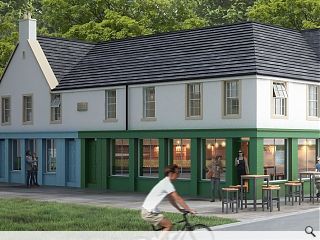 Miller Homes have opened a pre-application consultation for the delivery of a neighbourhood centre on green belt land west of Leverndale Hospital, Glasgow.
Around 300 homes are planned off Raeswood Road including retail, business and food and drink outlets bordered by accessible green space. Sold as a means to fully envelop Crookston by extending a network of recreational and green corridors to the west the landscape plan calls for development to 'close' the green loop.
A consultation statement prepared by Geddes Consulting said: "Development of the site presents an opportunity to provide a better edge between the settlement and the surrounding countryside. At present much of the settlement edge in this location is weak, presenting a poor interface with the countryside. The development presents the opportunity to rectify this by creating a new clear Green Belt boundary defined by features such as White Cart Water.
"Development of the site does not compromise this objective of
the Green Belt as separation between Glasgow and Paisley
would remain. Release of this site from the Green Belt will help
the Council to achieve its effective housing land supply target."
An application for planning in principle is expected later this year with work on site to get underway by early 2024.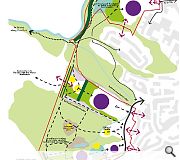 Crookston will be fully enclosed by a greenery under the plans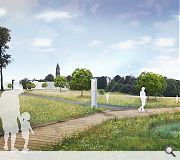 The landscape plan will maintain a green buffer between Glasgow and Paisley
Back to September 2022