Biophilic design coaxes Capital Square staff back to the office
August 3 2022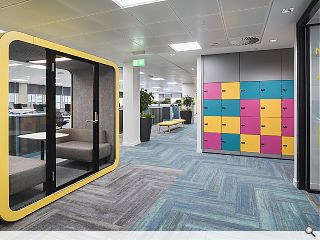 Legal firm Pinsent Masons have set up shop in a new Edinburgh office following an extensive refit by Cundall to connect occupants with the natural environment.
The 25,000sq/ft Capital Square office, home to over 200 staff, has been refitted according to standards governing access to air, water, nourishment, light, fitness, comfort and mind as set out by the International WELL Building Institute.
Tony Centola, building services partner at Cundall, said: "Achieving the first WELL accredited office fit-out in Scotland demonstrates Pinsent Masons' commitment to their staff's health and wellbeing by creating an inspiring and welcoming workplace for all. Our team faced and overcame many challenges including a base build not specifically designed for WELL, a pandemic, and a key supplier going into administration in the final phases of the project."
Sophie Simpson, associate sustainability engineer at Cundall Edinburgh adds:"There is plenty of evidence that offices that are designed to promote the physical and mental wellbeing of occupants are far more productive and happier than those that are not, and we expect this trend to continue as the world moves towards more environmentally conscious design."
Embracing biophilic design through the use of natural materials and indoor plants the overhaul emphasises health and wellbeing through natural light, air filtration and circadian lighting to work with the ingrained 24-hour cycle of the human body.
The fit-out was delivered in collaboration with Form Design Consultants, CBRE UK, AECOM and Overbury.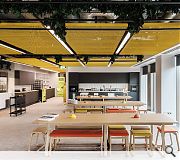 Images courtesy of SG Photography
Back to August 2022