Rustic Falkirk family home brought forward
August 2 2022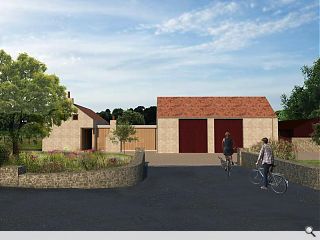 Plans for a new family home near Falkirk have been prepared by Izatt Arundell Architects, pushing the house closer to the street line than first envisaged at the behest of planners.
Located on a 3-acre open field adjacent to Mannerston House, the property draws on the local vernacular of clay pantile roofs, rubble farmhouses and brick smallholdings, establishing a courtyard cluster through a double garage and stables.
The 484sq/m H-plan home comprises two pitched roof structures linked by a flat roof element built using locally sourced brick and lime render with elements of timber boarding to provide visual interest. This will be joined by a steel-framed stable block clad in vertical pine boards, stained a deep red to match the shutters on the main house.
In an accompanying design statement, Izat Arundell Architects wrote: "Our architectural proposal looks to preserve and highlight the story of Mannerston, taking on board the design lessons and characteristics of the vernacular architecture and sensitively incorporating these ideas into a comfortable and beautiful new family home."
As part of the works, the ecological value of the remaining western portion of the field will be enhanced through the installation of bee hives and introduced flowering plants.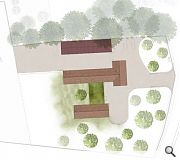 A separate stable block stands apart from the main building group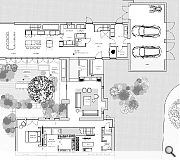 An entertainment space and terraced garden sit at the heart of the plan
Back to August 2022