Isle of Lewis heritage comes back to the fold
July 27 2022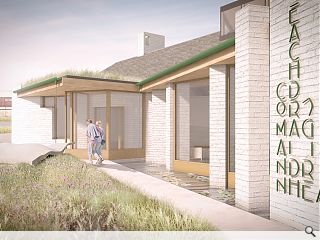 Bard Architects have debuted a new cultural building at Vatisker on the Isle of Lewis following a community consultation process.
Comann Eachdraidh Sgìre a' Bhac (Back Historical Society) has taken on a former school in the Back district of the island to deliver a 220sq/m heritage centre and meeting space that will preserve and promote local history, culture and traditions.
Project architect Ruairidh Moir said: "A long, linear plan is devised stretching from front to back of the site. An entrance is positioned midway down this span within a fold of walls towards the east, aligning to the chimney and heart of the plan. Upon entering the selection of options is immediately apparent – public zones such as the kitchen and exhibition/gathering areas open out and are framed by a ridge light that directs western light deep into the volume. Subsidiary accommodation and the archive are located to the rear, where the strong enveloping roof form is folded downwards."
Adopting traditional white painted masonry with a natural slate roof and timber rafters the heritage centre reaches out to the community via a signboard integrated within the folded masonry facade. Further visual interest is provided by a barometer bolted to a 'blade' of masonry that sets the scene for passersby. Moir adds: "We have devised the building to anchor it into the streetscape, creating considered public space around and integrating directly to the street allowing a visual connection to the immediate environs..."
The charity behind the venture will harness the facility to host a monthly series of meetings, lectures and events.
Back to July 2022