Five finalists shortlisted for the 2022 Doolan prize
July 25 2022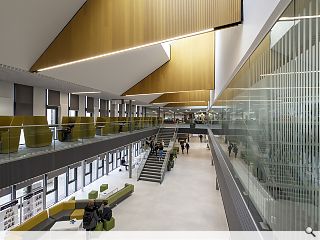 The shortlist for the 2022 RIAS Andrew Doolan Best Building in Scotland has been published, this year dominated by education and workplace categories.
Two learning campuses and two bespoke office developments are among the final five drawn from the RIAS Awards in order to recognise the talent of the architects behind the year's best buildings.
Shortlisted entries comprise Forth Valley College's Falkirk Campus by Reiach & Hall which advances the teaching of science and technology with an emphasis on inclusion. It is joined by Jedburgh Grammar Campus by Stallan-Brand, which carries forward the empathy shown to early years children to older students by promoting mental health and wellbeing.
Two workplaces also enter the mix; including Lockerbie Sawmill by Konishi Gaffney and Quarry Studios by Moxon Architects. The former stands as a demonstration project for sustainable timber construction while the latter turns a former quarry in the Cairngorm National Park into the public face of the practice which built it.
Mixing things up a little is High Sunderland by Loader Monteith, a restoration of the A-listed modernist property first designed by Peter Womersley.
RIAS president Chris Stewart said: "Our homes, schools and offices form the backdrop to our everyday lives, and this year's shortlist shows how architects can turn the ordinary into the extraordinary. This year's shortlist also highlights the relevance of architecture to many of society's most pressing issues – whether that is climate change, young people's mental health or the future of the workplace."
This year's jury comprised Amin Taha of Groupwork; Leonie Bell, director at the V&A Dundee and Collective Architecture director Jude Bell.
Back to July 2022