Latest Fountainbridge proposals emphasise homes & greenery over carbon & cars
July 1 2022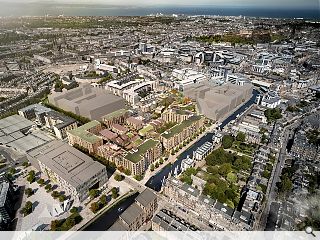 The latest stage of a major regeneration initiative at Fountainbridge, Edinburgh, has commenced with the launch of a two-week public consultation.
7N Architects with The City of Edinburgh Council, Cruden Homes East and Buccleuch Property are hosting the two-week online event to showcase their latest thinking for a canalside district comprising 464 tenure-blind homes - up from 434 homes.
Building on a master plan for the area the latest plans promise less carbon and cars, together with more homes and green space to win over existing and future residents.
The key to this approach is giving people a sense of belonging beyond their front door by emphasising shared spaces and the public realm as well as a net-zero energy strategy.
Alongside new housing, a host of complementary cafes, restaurants and shops are proposed to ensure the canal is restored as a working environment, not just a dormitory.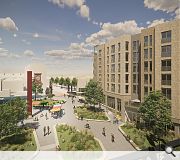 A civic clock will help build a sense of belonging in the canalside community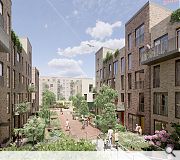 A projected site start has been pencilled in for mid-2023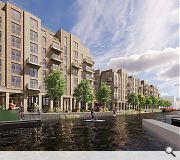 The Union Canal is set to become a bustling hive of activity once more
Back to July 2022