Zero energy off-grid Roundhouse flaunts its curves
June 17 2022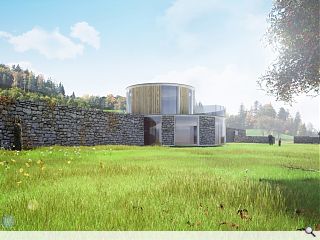 LMA has been granted planning permission to build a one-of-a-kind family home at Seamill, North Ayrshire, adhering to the 'Countryhouse Objective' policy permitting homes of 'exceptional design'.
Glenfoot Roundhouse adopts a purposefully contrasting character to nearby homes to prevent the appearance of 'ribbon development'. Open plan living quarters are arranged on the ground floor with the upper floor reserved for a 'lantern' viewing room commanding 360-degree views across the sea and landscape.
Occupying the site of a Georgian home and walled garden (demolished in the 1960s) off the A78 between Seamill and Ardrossan the zero-energy off-grid home is inspired by traditional Roundhouse and Broch design.
Adopting a stepped circular form the planned home protrudes from the surviving garden wall, concealing a more practical rectilinear extension to the rear to house the bedrooms. Wall stonework would be reused and cut into panelled cladding elements along the ground floor, maintaining the existing datum, with larch timber cladding used for the upper level.
In a concept statement, LMA wrote: "The proposed layout and massing sits comfortably on site, with the visible circular portion protruding through the wall reading as 'an object in the landscape', while the rest of the house is concealed behind the wall.
"The location and architectural language of the proposed scheme are significantly different than any association with the adjacent plot, avoiding any risk of the dwelling reading as 'ribbon development'."
An outbuilding dedicated to the production of self-grown food is also planned for one corner of the garden, adopting a similar appearance to the rear of the main home and standing below the line of the wall.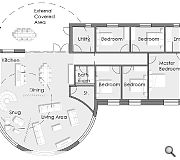 Feature living spaces stand apart from more standardised sleeping areas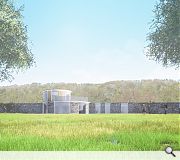 The line of the retained garden wall is to be maintained by the distinctive build
Back to June 2022