Apartments surge extends Bishopbriggs town centre
June 16 2022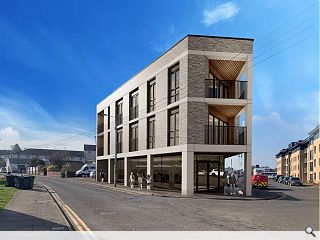 A new application to build four apartments above ground floor office and retail on the periphery of Bishopbriggs town centre has been filed by S2 Architecture.
Standing alongside an earlier residential development by C&S Ventures and Rhubarb Blue comprising 64 flats on St Mungo Street the latest plans will build out the junction with Crowhill Road by replacing a semi-derelict workshop with a 'landmark' development that introduces modern architecture to a largely suburban environment.
Street-facing commercial units are set back 1m from the road to provide privacy for occupants set behind a natural composite collonade. Making the most of its prominent corner location the grey brick building provides deep-set, angled balconies to provide residents with private amenities.
In a design statement, the architect said: "Our client's development drops to three stories which represents a natural step down in height as you transition away from higher density flatted properties to the existing mix of two-storey and bungalow-style properties which characterise the Crowhill Road.
"The development is positioned to be able to provide an active frontage onto both Crowhill Road and St Mungo Street whilst still being able to provide communal garden ground to the rear of the site."
A reduced parking provision for six vehicles is proposed given the site's accessible location close to Bishopbriggs train station.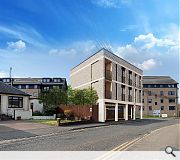 Oriented to maximise sunlight the development will incorporate photovoltaic panels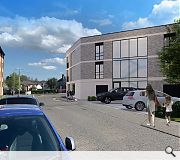 The scheme will be finished in natural composite cladding and grey brick
Back to June 2022