Developer sweetens Mount Florida locals with bowling club land offer
May 27 2022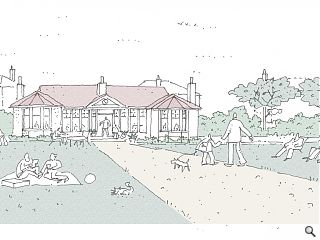 Noah Developments is buttering up Mount Florida residents to ease the passage of planned apartments with the offer of a new community facility handed over free of charge at a former bowling club.
Prior feedback has guided the project team toward 'reinforcing' Carmunnock Road by establishing a regular frontage of apartment blocks, permitting the clubhouse and a large area of open space to remain behind.
The new homes will serve as an enabling development to permit the retention and upgrade of the clubhouse pavilion, which will be made available for community use at no cost.
Two options are being explored for the handover, both of which entail gifting outright ownership to Mount Florida Community Trust. The first would see a landscaped open space signed over with the upgraded pavilion while the second would see the same land transferred and the pavilion demolished - with a £150k cheque handed over instead.
Paul Winocour of Noah commented: "We are aware of the challenges faced by local community groups in sourcing sites and funding for community facilities. With that in mind, we are pleased to be able to offer the gift of outright ownership of the newly created community element of the site as part of our overall proposals. It is our hope that the tangible benefits of ownership will assist towards the successful creation of a real and sustainable community asset."
Active design work is currently being undertaken by jmarchitects while awaiting a formal response from the trust, which has issued a survey to members asking whether they wish to fight on for the whole green space or open negotiations for the remainder.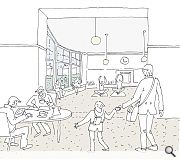 One option under consideration would see the clubhouse remodelled as a community venue at no cost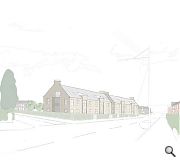 The preferred option is for Noah to 'reinforce' Carmunnock Road with new homes
Back to May 2022