Prospect takes a look at some of Scotland and the North's newest architectural practices, and some recently-qualified rising stars who are making their name within larger firms.
11 Mar 2005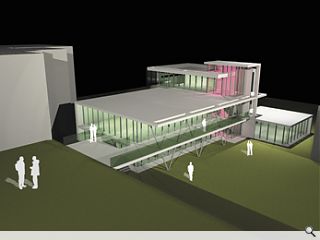 by Anna Chambers
While discovering some of the north of Britain's newest architectural practices, it was interesting to notice some clear patterns emerging. New firms regularly consist of a male-female partnership, who are often partners in life as well as work. They are commonly either groups of friends or colleagues who met at a previous workplace with similar goals or philosophies, or sole practioners branching out on their own. Many start on small-scale residential projects before building up the momentum to expand and take on larger jobs and more staff.
But what seems to really unite most new practices is an overwhelming desire to get stuck into designing buildings and exercise their creativity, rather than to churn out endless suspended ceiling layouts and details on CAD. The question is, does starting a new practice really offer the opportunity to design exciting projects, or is there a danger of getting stuck in a rut of house extensions? The good news is that most of the practices here seem to be successfully making that leap from initial small-scale schemes to projects that will keep their creative juices flowing.
A dominant trend was a craving for more flexibility and control over working conditions, and indeed workload. The greater degree of freedom that running your own firm can bring might go some way towards explaining the high proportion of women in new practices – a subject of hot debate at present, thanks to the 50/50 campaign. Almost every young practice featured here has a woman as a partner or director.
THE PRACTICES
1. Rural Design
Isle of Skye
Alan Dickson and Gill Smith established Rural Design, in 2003, after moving from Glasgow to Skye. Dickson had worked for many years alongside Paul Stallan at RMJM's Glasgow office, and moved to Edinburgh to work for a year-and-a-half on the Scottish Parliament, before moving to Gillespies, where he got the chance to visit and fall in love with Skye. Gill Smith had previously worked for BDP. The couple's decision to relocate was based on their long-standing dream of a rural life, and the fact that Dickson wanted to have the time to "design small projects well" rather than worry about managing large teams of staff. The third member of the team, Marnie McDonald, worked with Gill Smith at BDP and originally came from Skye.
Rural Design's first completed project was the Wooden House, designed as a combined office and home for Dickson, Smith and their young family. The design, with its timber construction and cladding, was influenced more by the domestic architecture of Nova Scotia in Canada than the local vernacular. However, the aim was that the house looked like it belonged in its landscape, despite being so different from its neighbours.
Dickson hoped the house would help inspire more imaginative house design in the area, and it seems to have worked – Rural Design has already gained so many new commissions that it is currently turning potential clients away.
The practice has just won two commissions for high-density, low-impact housing for the Lochalsh and Skye Housing Association: one on southwest Skye and the other in the village of Plockton. Rural Design beat a shortlist that included the more established firms Gaia Architects and Dualchas to win these projects, an achievement that Dickson is very proud of. Other projects include numerous one-off homes and the refurbishment of two hotels, as well as a feasibility study for Drumchapel Community Forum to convert the shells of six flats above a row of shops on Rozelle Avenue into a multifunctional community facility.
It's a testament to Rural Design's rapid success that, in a few weeks, they will be moving the business from their home in the Wooden House into to a new office in Dunvegan. They hope to recruit three more members of staff to cope with the growing workload – if they can persuade some more talented individuals to swap the rat race for the rural idyll of Skye.
2. Hot Architecture
Knutsford
Between them, the two partners at Hot Architecture have worked in some of the country's top design practices, including Foster and Partners, Rab Bennetts Architects, Hodder Associates and Stephenson Bell.
Rosemarie Andrews started Hot in 2000, after she left Stephenson Bell to have her second child. She ran Hot as a one-woman practice from her own home until 2003, when her increasing workload allowed her to move to an office in Knutsford, and take on an assistant. Keith Andrews also decided to join Rosemarie in 2003, and over the last two years they have been working on some interesting projects, many of them visitor centres.
Hot is currently working on three visitor centres for Halton Borough Council. The Wigg Island Visitors Centre in Runcorn, which is currently out to tender, will be on a former brownfield site adjacent to the Manchester Ship Canal which the council is spending a significant amount of money to decontaminate and make safe for public use. The site has no services, so the building has to be totally sustainable – a wood-chip burner will be used to heat the centre, and water will be shipped in on trucks.
The Wigg project scooped the Manchester Society of Architects Design Award for the best unbuilt education building, in 2004. Judges described it as "Simple, iconic and commanding, but also a serious response to the problems of security and its harsh surroundings." Hot's Castlefield Visitors Centre, also in Runcorn, is currently out to tender, and scheduled to start on site next month. The Victoria Park Visitors Centre, in Widnes, has planning permission, and will start on site in September.
3. A-Cube
Manchester
A-Cube, which was set up by Manchester School of Architecture graduates Faheem Aftab and Naushad Islam, in 2002, has grown quickly to become a well-known practice with a staff of eight, with further expansion likely in the near future. A-Cube's young workforce consists almost exclusively of ethnic minorities and women, a conscious decision by the directors, who pride themselves on "not conforming to the norms of the architectural profession, both in employment regimes and in design."
The practice's speciality is educational projects, but it has recently branched out into the commercial and residential sectors. Multi-million pound educational and housing projects, and small-budget refurbishments and bespoke interiors, all form part of its portfolio. A-Cube's largest completed project is a series of new buildings for Loreto College in Hulme, with Phase 2 currently on site and plans underway for Phase 3, which involves the restoration and extension to a Grade II listed chapel.
Current work includes a £30million development for Barnsley College, with the first phase due on site next year. Other educational projects on the drawing board include schemes for Kendal College, Furness College and the second A-Cube building to be built for Ashton-under-Lyne 6th Form College. A £2million new teaching block is currently on site in Ashton, due for completion in July. Non-education projects include Mangrove bar and restaurant, in Birmingham; refurbishment for the British Council's Manchester HQ; and several housing projects, due on site in the next year.
A-Cube also take on non-architectural projects, including working for Granada TV's 60 Minute Make-over and delivering workshops at the Lowry Centre, for under 16s hoping to gain an insight into architecture.
"A-Cube has already in its short history shown that there is a place in the North West for small, young, independently-minded architects, and that Manchester is the perfect environment to allow these talents to expand," says Faheem Aftab.
4. Graphite Studio
Edinburgh
Since setting up in Edinburgh, in 2001, Graphite Studio, a partnership between Northern Irishman Simon Brims and Italian Donatella Nocco, has been involved mainly in domestic extensions and one-off houses, and is currently working on an extension to a church on the Isle of Lewis. Brims studied architecture at the University of Edinburgh, and Nocco graduated in Civil Engineering from the Politecnico di Torino.
The recently completed McKellar House, on a wilderness site on the Isle of Harris in the Western Isles, is a six-bedroom house for a local doctor and his family, perched on a rocky outcrop. The Dutch House is a three-storey house, inspired by contemporary Dutch domestic architecture, which the practice hopes to realise this year. "It brings together some of the ideas in our finished projects and pushes them a bit further," said Simon Brims. The plan consists of an open-plan living, cooking and dining space, at ground level; two bedrooms and family bathroom, on the first floor; and a large master bedroom suite on the top floor, with two roof terraces. The materials are textured pre-cast concrete and curtain walling on the ground floor and untreated oak cladding on the upper floors.
5. Studio 3
Liverpool
The three young directors of Studio 3 Architects, Andrew Thomson (37), Sarah Pegg (33) and Mushtaq Saleri (30), had all previously worked for Ellis Williams Architects before setting up their own business, in 2003. "It was a case of now or never," said Saleri, about their decision to go it alone. "The market in Liverpool looked good, and we timed it very well as we set up about a month before it was announced that Liverpool had been awarded Capital of Culture."
The practice works in a variety of different sectors, including education, commercial, residential and industrial, with commissions ranging in size from £25,000 to £1million. Current work includes a new contemporary extension to the Grade II listed Sandon Hall Conservatory. The architects have worked closely with the client, design team, local authority and English Heritage to develop a sensitive yet exciting scheme. Planning permission and listed building consent was granted in December 2004, and work began on site in January.
6. Icosis
Edinburgh
Edinburgh-based Icosis is a partnership between Euan Millar and Sarah Worrall, who both worked previously at conservation experts Simpson & Brown. Millar trained at the Mackintosh School of Architecture and Cyprus College of Art before completing a conservation diploma at Edinburgh College of Art. Worrall is a graduate of the University of Newcastle School of Architecture, spent a year researching ecological building methods in New Zealand, and previously worked for Gaia Architects. The aim of their new practice, established in 2003, is "to produce modern, sustainable architecture" as well as carrying out sensitive conservation projects. They took on a student architect, Michael Davidson, in December 2004, to help with their increasing portfolio of work.
Icosis has recently completed a house in North Queensferry that was created by converting and extending an ex-Ministry of Defence signal station. Current projects include several modern private houses, conservation work to the Greyfriars Mission Building in Edinburgh's Grassmarket, and the conversion of Greenbank Mill in Galashiels into a restaurant and private residence.
7. Aidan Simpson
Manchester
Aidan Simpson is a sole practitioner based in Worsley, in Manchester, who previously worked with Walker Simpson Architects and Holford Associates (now Aedas). He decided to go solo around eighteen months ago as he craved more flexibility, and currently works from home. He has no immediate ambitions to expand.
Simpson is keen to emphasise that he doesn't just deal with small-scale residential projects. His current work includes extensions to two schools: Fairmeadows Foundation Primary School and Pennine Way Junior School, each project valued at around £250,000, and both due for completion this summer. Both projects involve extending and reworking the public faces of the schools to transform their image, as well as providing additional accommodation. Simple, eye-catching solutions have been used to balance tight budgets against the need to stimulate users and maximise floor space.
"There's a lot of work out there in the education sector, and there's an assumption that only larger practices can get into that," said Simpson. He's also involved with projects in the childcare and community sector – particularly Sure Start – in collaboration with his previous practice Walker Simpson. Another current project, due for completion in the autumn, is a large, modern house extension with swimming pool. The clients wanted a calm, minimal space to escape and relax, in contrast to the traditional style of their existing house.
New architects within larger practices
It can take a lot of patience, but as some young architects have proved, with the right balance of skills and determination, it is possible to get involved in exciting design work within a larger practice. Working hard within an established, design-led firm can offer opportunities to work on larger-scale commercial, educational or public buildings.
1. Reiner Nowak, GM + AD Architects
Thirty-year-old Reiner Nowak, who works at Gordon Murray and Alan Dunlop Architects in Glasgow, qualified as an architect in autumn 2004. He studied at the Mackintosh School of Architecture, and as a student won the Glasgow Institute of Architects Portfolio Prize. He joined GM+AD in 2003 after working on various projects and competitions in his native Germany. He was project architect on The Sentinel, GM+AD's £11million office development in Glasgow city centre, which has just been handed over to the client. He's now busy as project architect for new business units at Clydebank, where he has designed a unique industrial motif and developed a system of silkscreen printing on to areas of cladding.
"We are fortunate to have a number of very talented young architects in the office at present, and some of Spanish, American, German and Irish origin," said Alan Dunlop. "Among these young architects Reiner Nowak has particularly impressed us with his design flair, but also his maturity and technical skill. For an architect just newly-qualified he is able to take on a great degree of responsibility and tasks we initially thought could be too much, he has relished and performed brilliantly."
Nowak also led the team that produced GM+AD's contribution to 6,000 Miles, The Lighthouse's main exhibition in 2005, and is multi-lingual in English, German and French.
2. Alisdair Clements and Mark Hamilton,
ZM Architecture
When Glasgow practices Zoo Architects and McGurn Architects joined forces a few months ago, each brought a talented young architect to the newly merged firm, ZM Architecture. 29-year-old Alisdair Clements has worked with director Peter Richardson since he established Zoo, in 1997, and was involved in the prestigious Tramway Theatre project, North Edinburgh Arts Centre and the recently completed Partick Burgh Halls, which he ran almost single-handedly. He is now working on the remodelling of part of Perth Theatre to create a new studio theatre, new housing at Balloch on Loch Lomond, and is also training as a DDA access advisor. "Alisdair has a great talent for working through and delivering a project, and is particularly good with clients," said Peter Richardson, "and we also have another great young architect in Mark Hamilton, who was with McGurn Architects." Hamilton joined McGurns around ten years ago, and is now working on two large-scale housing projects, involving the repair and residential conversion of listed Victorian buildings at Leverndale and Gartloch, built originally as part of Glasgow's Victorian peripheral asylums.
3. Neil Dawson and Amanda Warner, ShedKM
Liverpool's ShedKM is a practice with a very young age profile – only one member of staff is over the age of 40. The practice has only been on the go for around seven years, but has quickly made a name and now has around 15 staff. Neil Dawson and Amanda Warner are the most recently qualified young architects at Shed. Neil has worked on Urban Splash's Match Factory, and Amanda on a private house and Ashfield Heathcare's office building.
4. Gareth Morris, Studio KAP
Forty-year-old Gareth Morris, who qualified in 2004, is a new architect at Studio KAP, a practice which is itself in its infancy but already well-known due to several high-profile projects. Before commencing his architectural training at the University of Strathclyde in his mid-30s, Morris worked for many years as a cabinetmaker and gallery technician. Director Rod Kemsley said: "Over the 18 months Gareth has worked for us, he has completed two excellent buildings, both of which are now being submitted for the RIBA Regional Awards."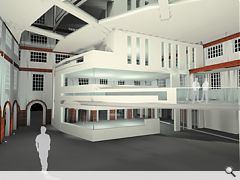 Back to March 2005